Hustle makes every attempt to secure numbers in the area code closest to the location of your group. The phone numbers Hustle uses to send messages from are based on the location you enter when you create your group.
Skip to:
How are texting numbers setup?
When you create a group and enter your location, Hustle will search a radius of 20 miles for available numbers closest to that location. If multiple area codes are found, Hustle will automatically choose one of the available numbers.

To make sure your audience recognizes the number that messages them, It's important that you choose a location closest to them.
How do I text from a different area code?
If numbers with your preferred area code aren't available you can change what area code your group texts from (based on availability).
To set your group's Preferred Area Codes:
From the admin panel click Group Settings > Basic Info.
Scroll down to Preferred Area Codes.
Search and select the area codes you'd like your group to text from. You can search by area code, city, and state.
Click Save.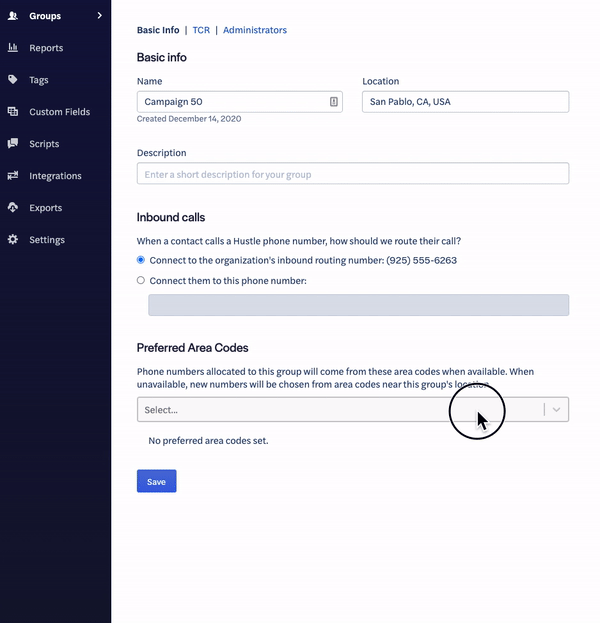 Frequently asked questions
Can I use Hustle with my own number?
No, you can't use your own number to Hustle.
Can I request a specific telephone number to use?
No, you can't choose a specific telephone number at this time.
Can I request a specific area code for my group?
To set a specific area code for your group, see How do I text from a different area code?