We've stepped our game up to make targeting the right Contact for the right message a breeze! You have the ability to tailor your Goals based on previous actions taken by Contacts as well as specific Custom Field data. With a few clicks, you can make sure that your message hits all of your Contacts and sleep easy knowing that you Hustled hard!
When setting up targeting in your goal, the default behavior of targeting is to include your entire list of Contacts. While it is easy to target your entire list of Contacts, it is imperative to use filters to be able to engage your Contacts with the most contextual message possible!
In addition to targeting your entire list, you are able to use filters that will allow you to identify specific Contacts within your larger Group. In total, we have 3 types of filters that you have the ability to target by: Tags, Custom Fields and Goal Results.  The best way to think about these filters is as constraining your entire list of Contacts within a Group. Each of the filters will create an individual targeting card that you have the ability to edit or remove as necessary while building your Goal.
Filtering on Tags has 3 different types:
Contact contains

all

of the Tags listed

Contacts has

any

of the Tags listed

Contacts

do not match any

of the Tags listed
Filtering on Custom Fields features 4 different types. Let's use the example of a Custom Field for color.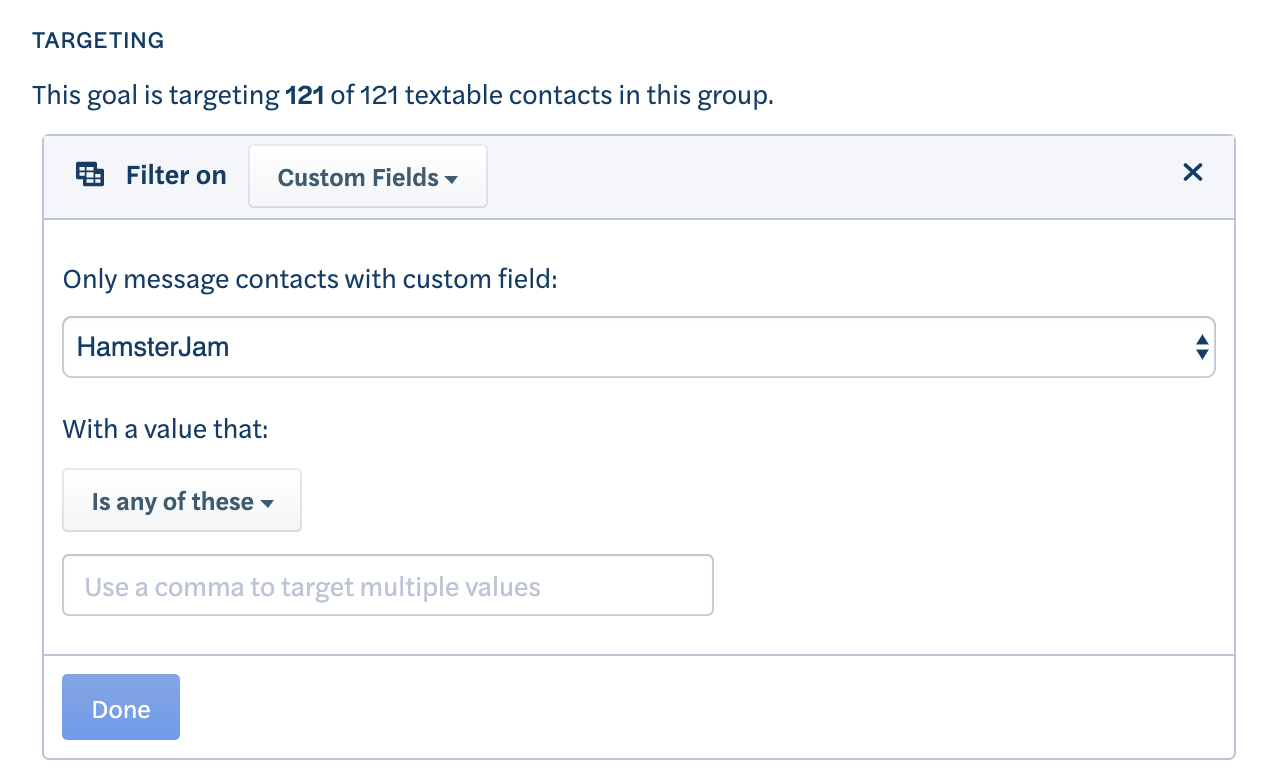 "Is any of these"




Contacts have the searched for value for the Custom Field and no other value not matching the searched for value (e.g. Green)

NOTE:This is a case-sensitive match.

"Is Not any of these"




Contacts do not have the Custom Field value listed (e.g. NOT Green or NOT Purple)

"Has any value"




As an example, the Contacts have the 'color' Custom Field

"Has a blank value"




The Custom Field value is blank for these contacts.

The final option for targeting is by using previous data collected from other completed Goals in your Group. This will allow you to target on a previous Goal in the following ways:
On a Goal by Goal basis based on specific responses to Goals (Contacts replying yes, no or no response) or has an action associated with your goal such as clicking a link or committing to making a phone call

The ability to target your Contacts who have been skipped in previous Goals
As you setup more filters in the Goal, the targeting estimate will update with confirmation of the number of Contacts who are going to be contacted with the corresponding target parameters. And, as you add more parameters to your filtering, your target gets more specific.
Say goodbye to the days of being a CSV wizard or searching for that one Contact that was skipped!