Ever need to create a goal to message only certain contacts within a group? Of course you have! Goal targeting is a powerful tool to sort and filter your contacts to limit the number of people reached by a particular goal. You can use this to only target people with or without specified tags, with certain custom field values, or even people who have previously RSVP'd to events you have hosted through Hustle.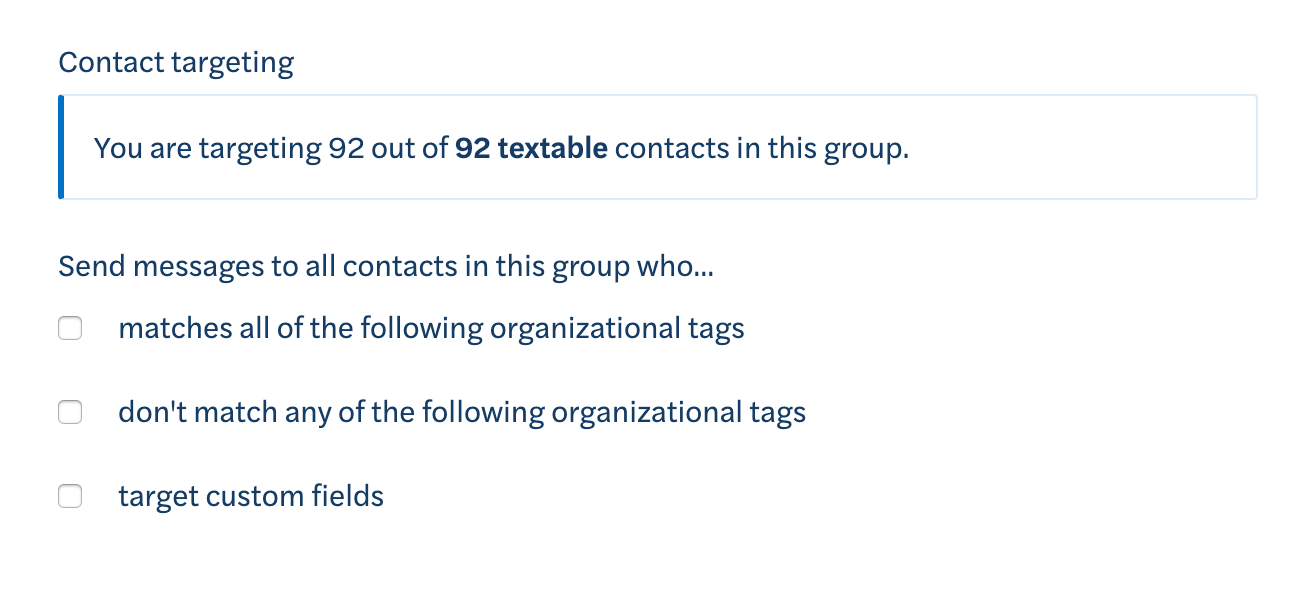 Goal Targeting Options
The Match all of the following organizational tags option will allow you to specify one or more tags that your contacts must have in order to be targeted by this goal.  Keep in mind that they must have all of the tags you select.  If they only have 2 or less of the 3 tags you selected, they will not be targeted.
Don't match any of the following organizational tags will exclude contacts with the indicated tag(s).  If the contact has any of the tags you selected they will not be targeted.  So if you selected 3 tags, and they only have one of those tags, they will not be included in the goal.

NOTE: You can learn more about how to target or exclude contacts based on their tags here: How could I use tags?

Target custom fields allows you to select from any of the custom fields you have created. You can select a single field, or you can also specify values and only contacts with one of the specific values will be targeted. You can learn more about this type of targeting here: How do I use custom fields to target leads?
Silent Targeting With Custom Fields
When you include a custom field in one of your scripts Hustle will automatically target any contacts that have a value in that field. This is something that is often overlooked and can accidentally cause your goal to target fewer people than expected.
NOTE: If your goal returns 0 contacts or 100% complete upon goal creation without having sent message out then most likely there is a custom field present in one of your scripts that isn't available for any of the other contacts you have targeted. To fix this, either remove the custom field from the script or add the custom field details to the contacts who are missing it.
With that said, you can use this to target users who have a specific field filled in. Adding the <local_office> field would cause the goal to only target contacts who have a local office associated with them in Hustle.
You can also use this to change the targeting of a goal mid stream. This is the only way that you can alter your targeting after the goal has been created. You can modify any script within your goal to add or remove a custom field and it will alter the targeting accordingly.