Want to check out past Release Notes? Check out the archive in Q1Y19 Release Notes.
June 2019
06/19/2019
06/05/2019
May 2019
05/15/2019
April 2019
04/03/2019
04/11/2019
04/18/2019
04/30/2019
06/19/2019
Script Library GA
At long last, Admins have the ability to save scripts and utilize them across Goals which allows users to create a script library! Users have the ability to create and name their scripts, as well as delete and edit scripts currently in the library. Once created, users can apply the scripts to any Goals that they create in the future or have their script be included automatically in all future Goals! These saved scripts can be used in all parts of Hustle such as initial scripts, reply scripts and additional response scripts. What a treat and a huge time saver!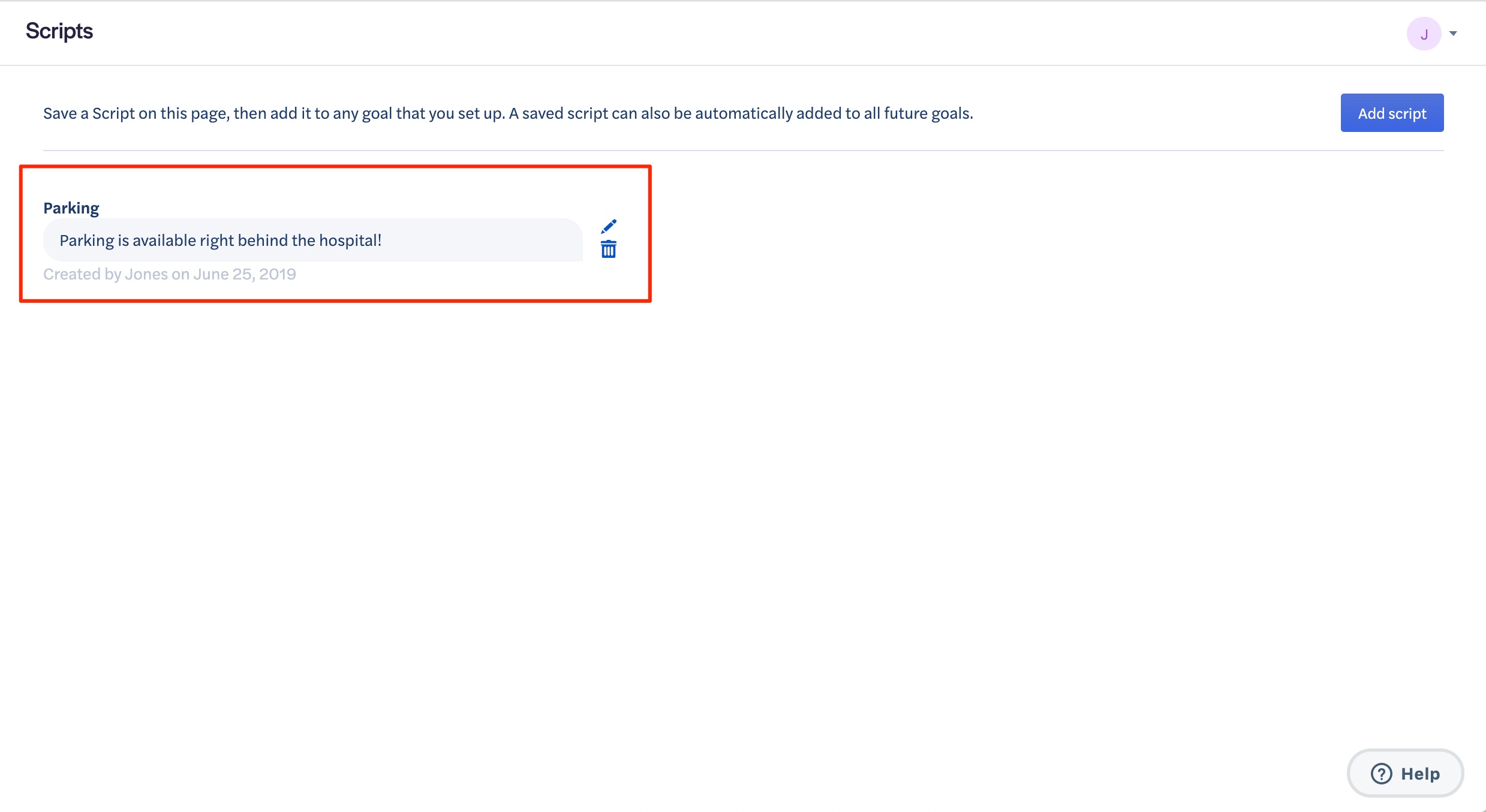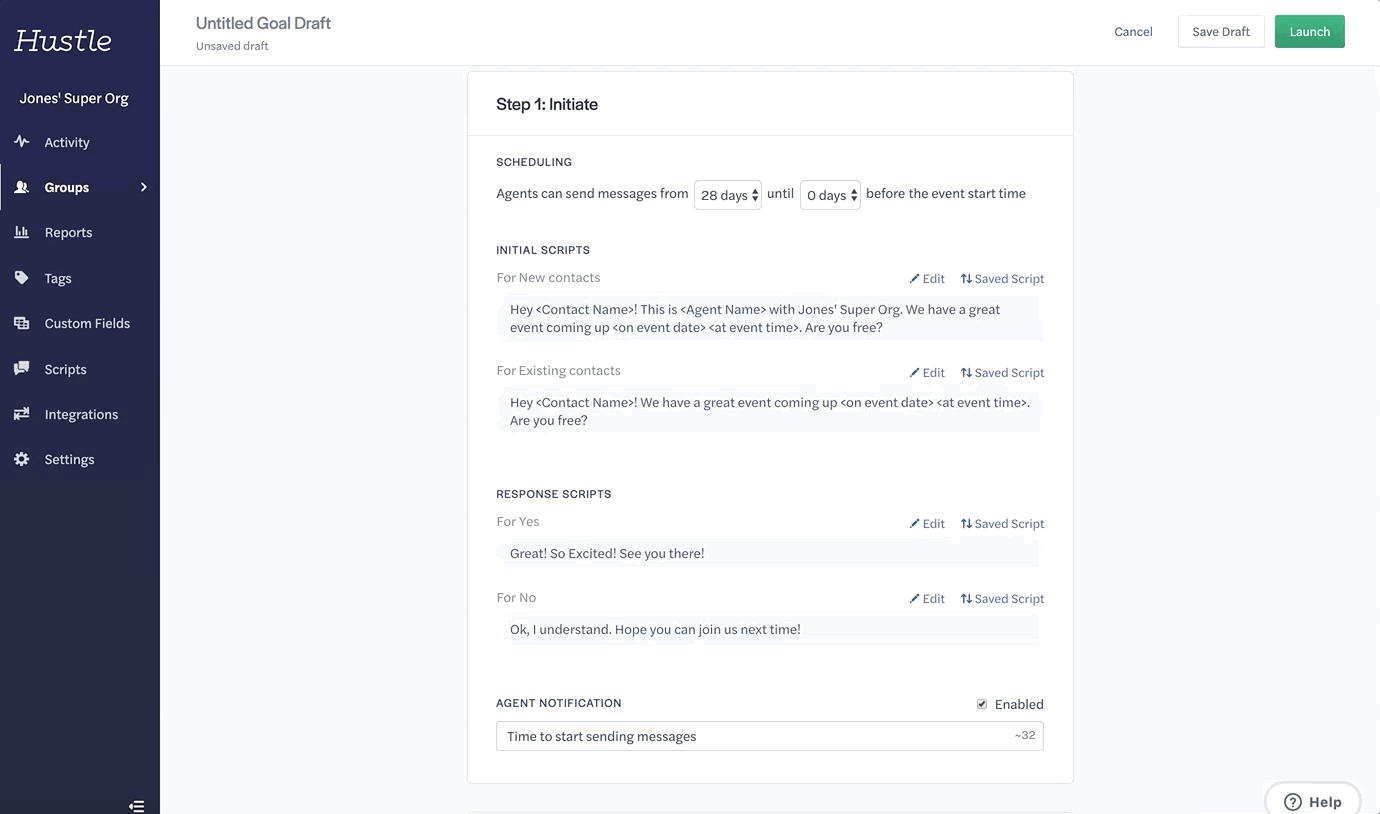 06/05/2019
Link Tracking, V3
Admins now have the ability to add their own GIFs, images and videos to a custom link when they are creating their goals while using the link tracking feature! This means that users have the ability to customize the preview links while tracking clicks on the link. How cool is that!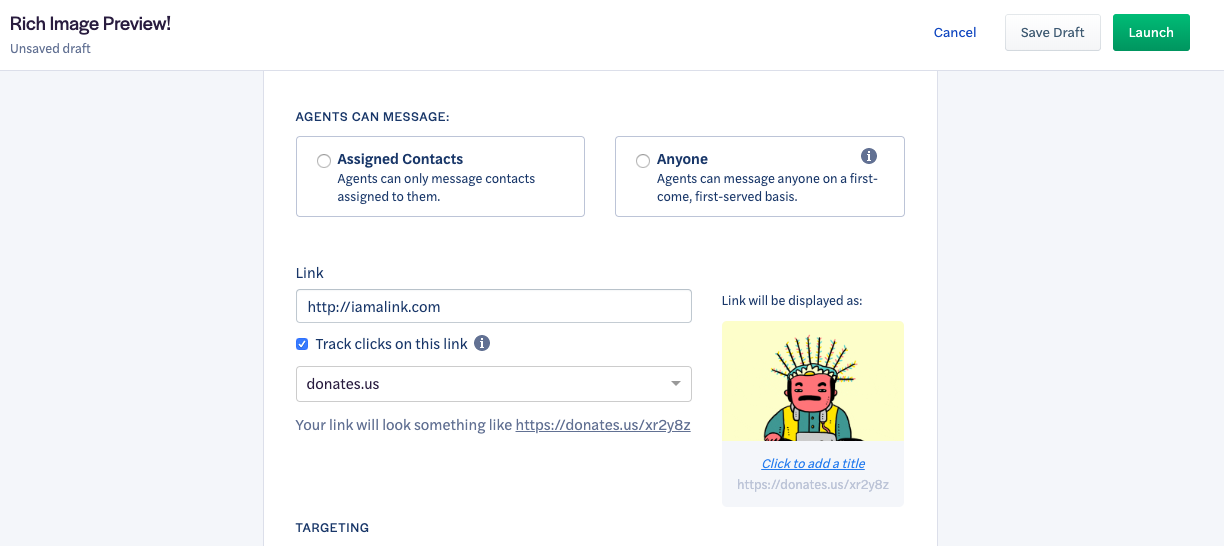 Account-level Organization Insights Dashboard
Account-level Admins now have the ability to see a high level view of the activity for each individual Organization within the larger Account. This feature will assist our Account-level Admins in being able to pull data on their organizations and take action where needed!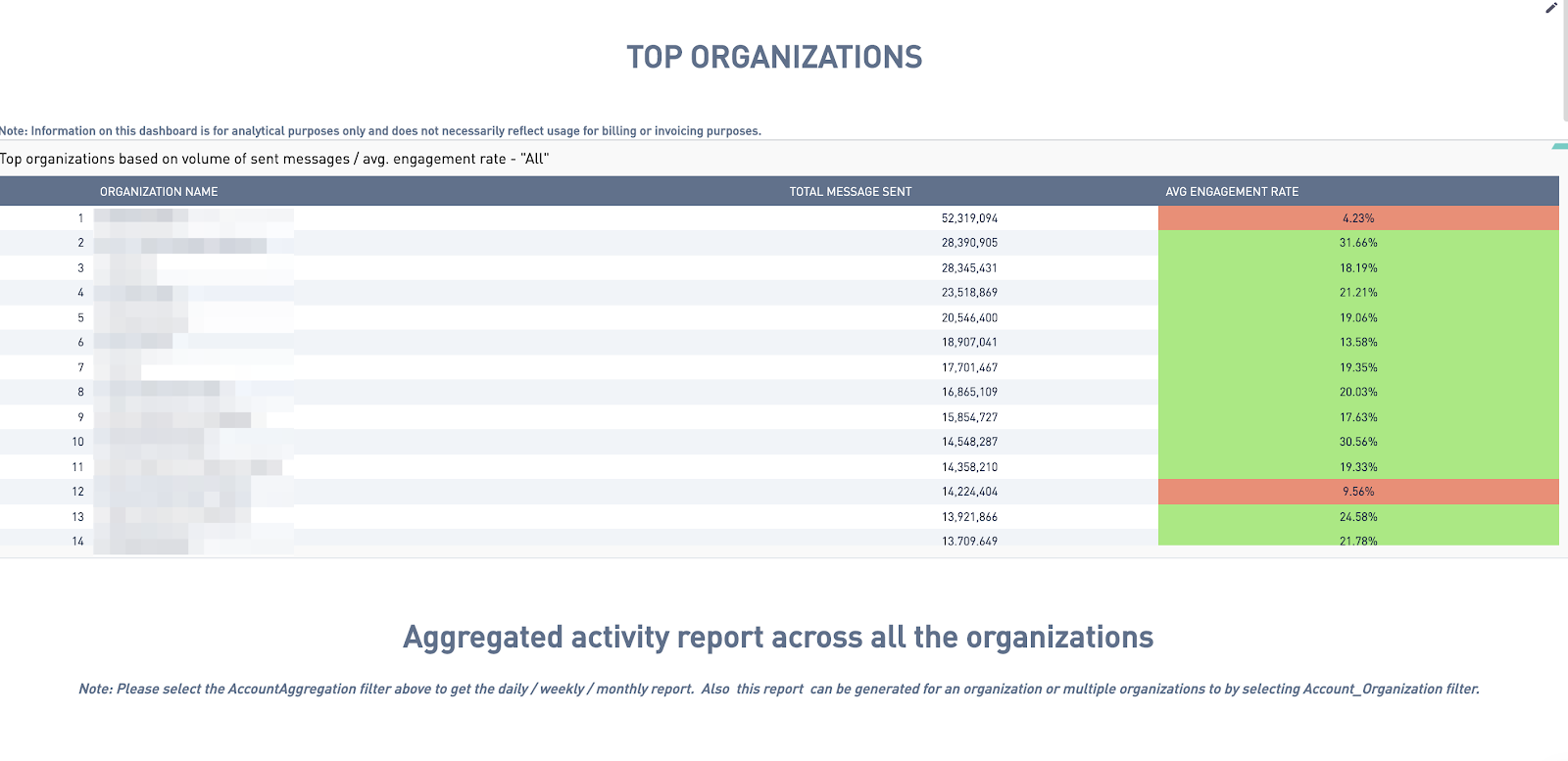 05/15/2019
Duplicating Draft Goals
Admins can now duplicate the draft goals they duplicate both within the same group or across different groups! This will be a huge time saver and allows admins to create a template goal and duplicate it across multiple groups before launch!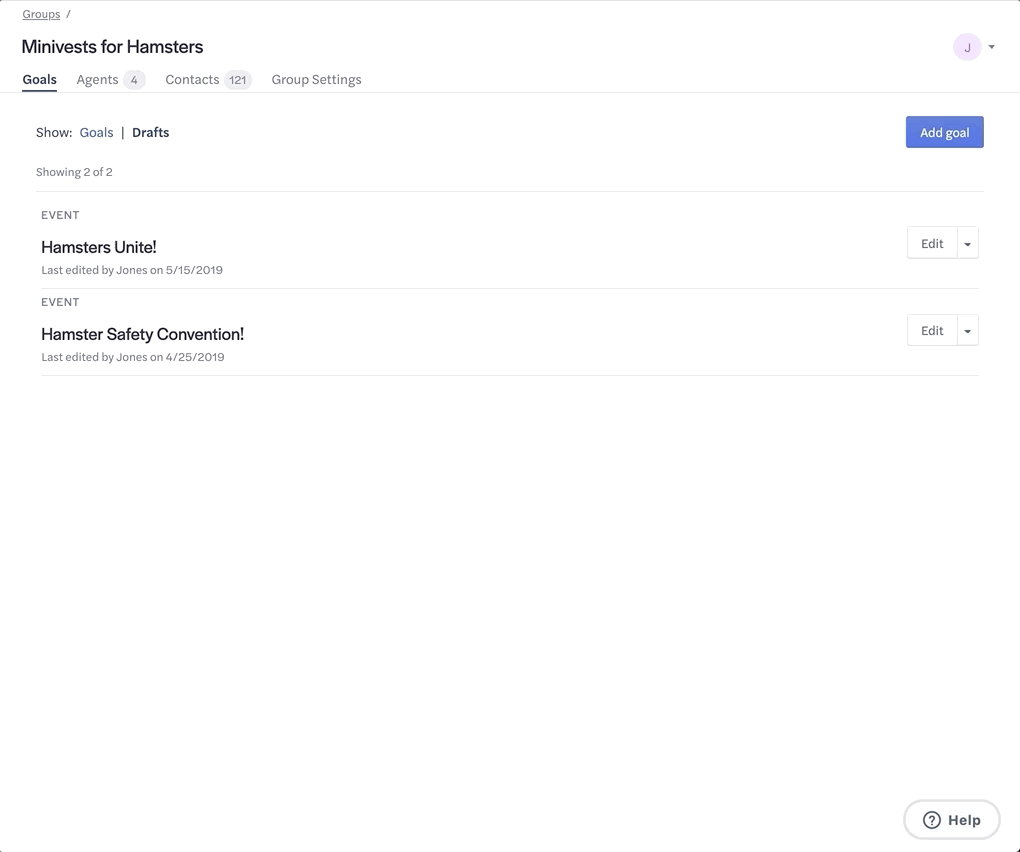 Deleting Goal Drafts
You read that right! Admins have the ability to delete draft goals. Say goodbye to the days of having erroneous draft goals sitting in your drafts page in the Admin panel. Talk about spring cleaning!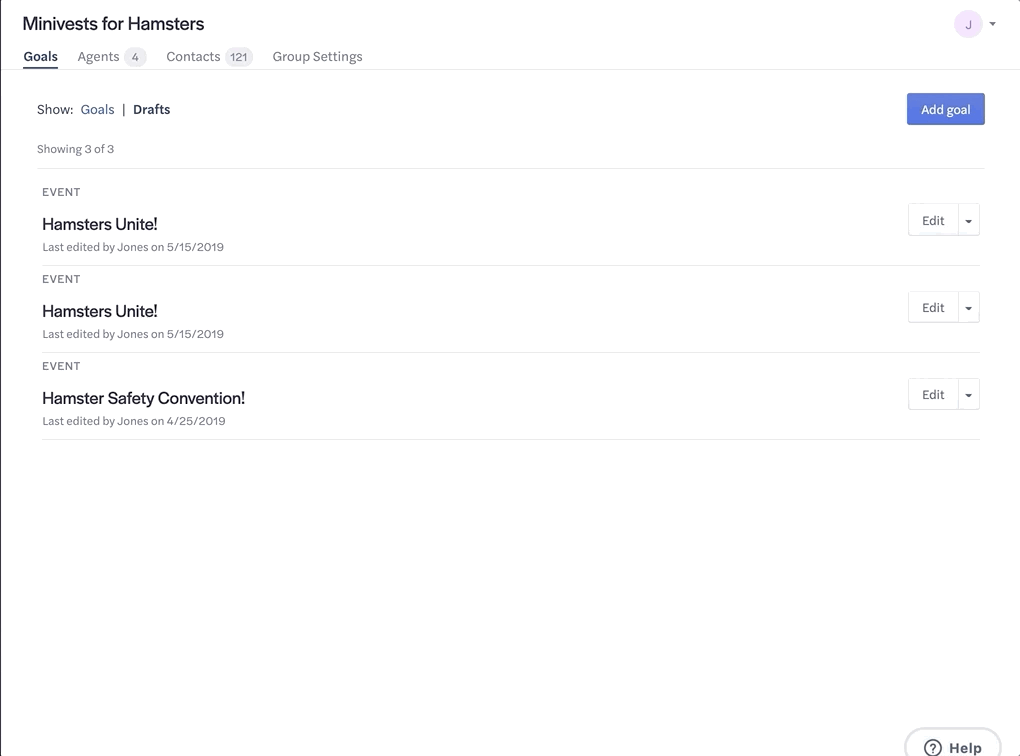 Opt Out Rates in Activity Page
Admins now have the ability to see the opt out rate of their goals in the Activity page! This new feature gives you even more insight into the success of your goals without having to drill down into each individual goal.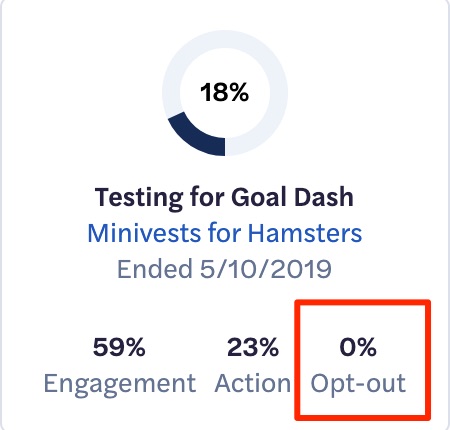 04/30/2019
Organization Activity Overview Page
We want to make Hustle management much easier over the next year and have already invested in better signup flows, overview pages and admin service controls. This week, we're gearing up to add to this experience with a new landing page for organization admins. The activity page will display recent activity in the org, such a in-progress or upcoming goals and opt out rates. This report will help guide admins on where to take action or dive in to learn more about how their organization is using text.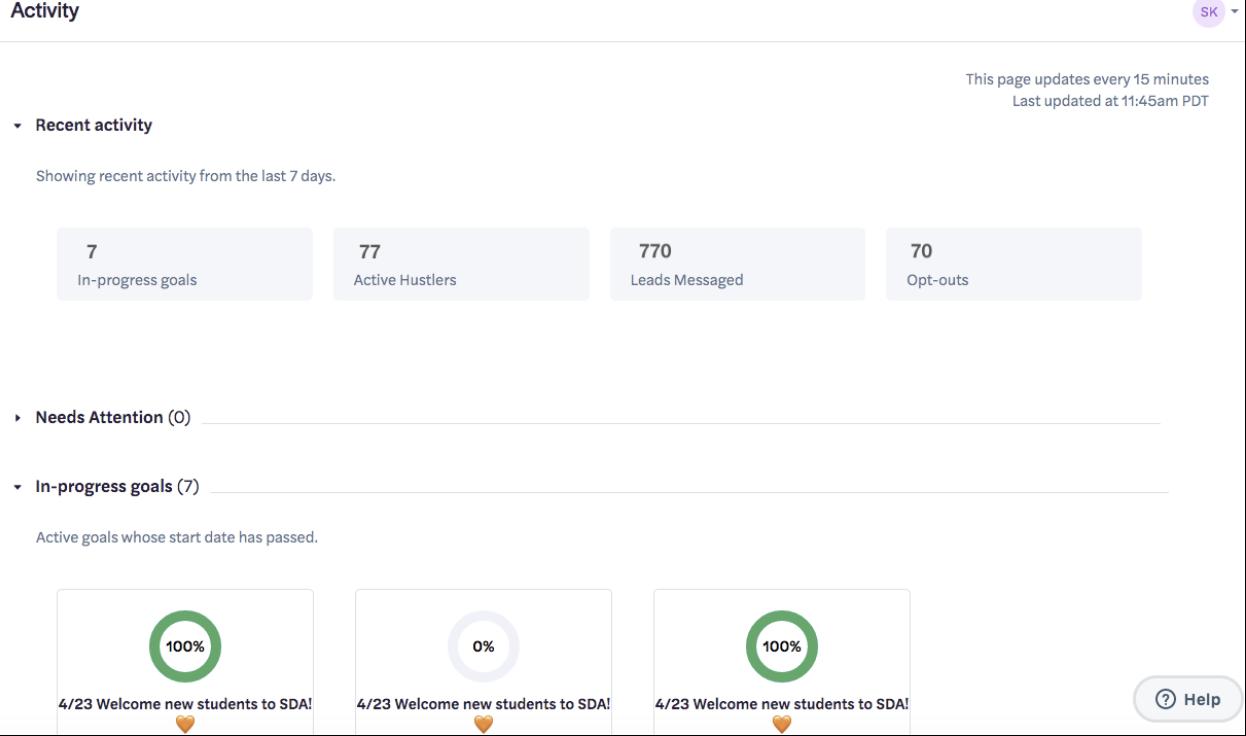 04/18/2019
Goal Drafts GA
Admins now have the ability to create a goal and all of it's corresponding parts (targeting, scripts, reminders etc.) and put it in a "Draft" state. This will allow for more flexibility in creating your Goals and editing them before they are launched!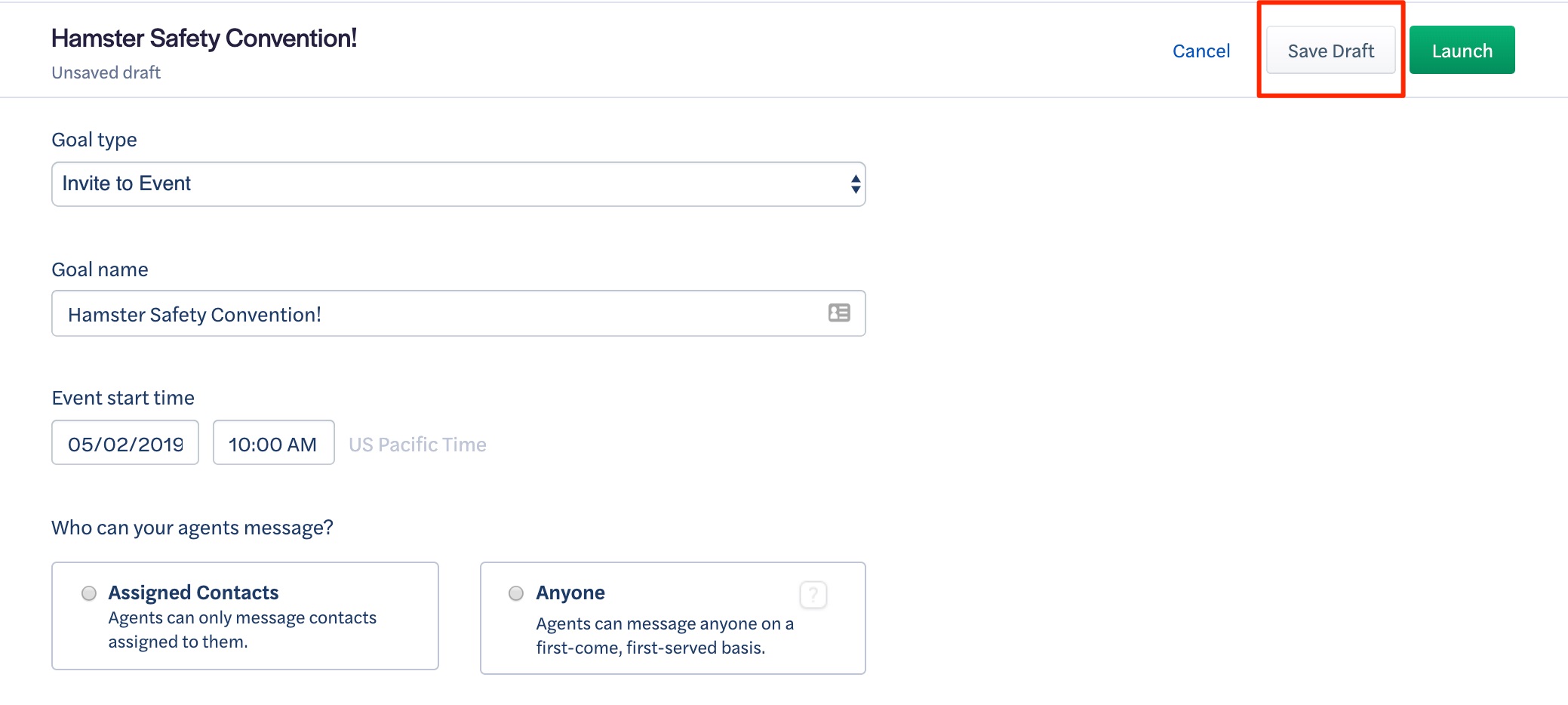 You will now have access to your draft goals under the Goals Tab where you can launch once the goal is ready to go!

Goal Messaging Preview

Admins can now see a live script preview! With the ability to preview, in addition to useful tips from script analysis, our script editor now provides much more support for admins so that they can create effective and well-received scripts for their goals.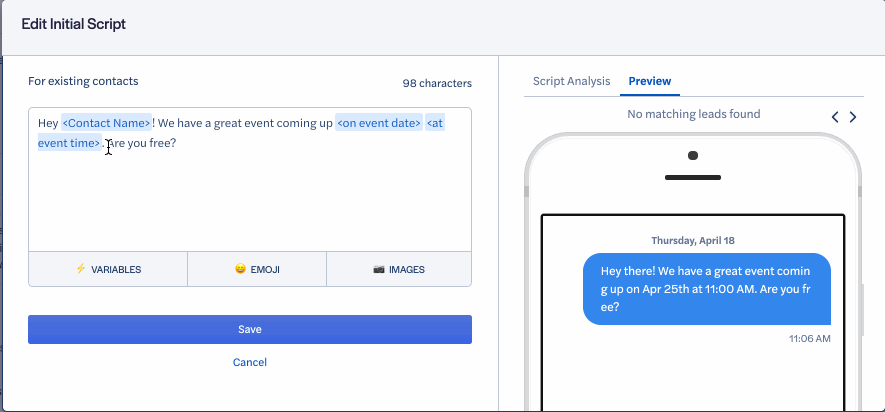 Additional Changes:
Test Send Scripts
Goal Drafts Beta
04/11/2019
Admin Nav Redesign For All
Today we turned on the new admin nav redesign for all clients. Beta testing generated a great response from clients and early feedback from the General Release has been positive.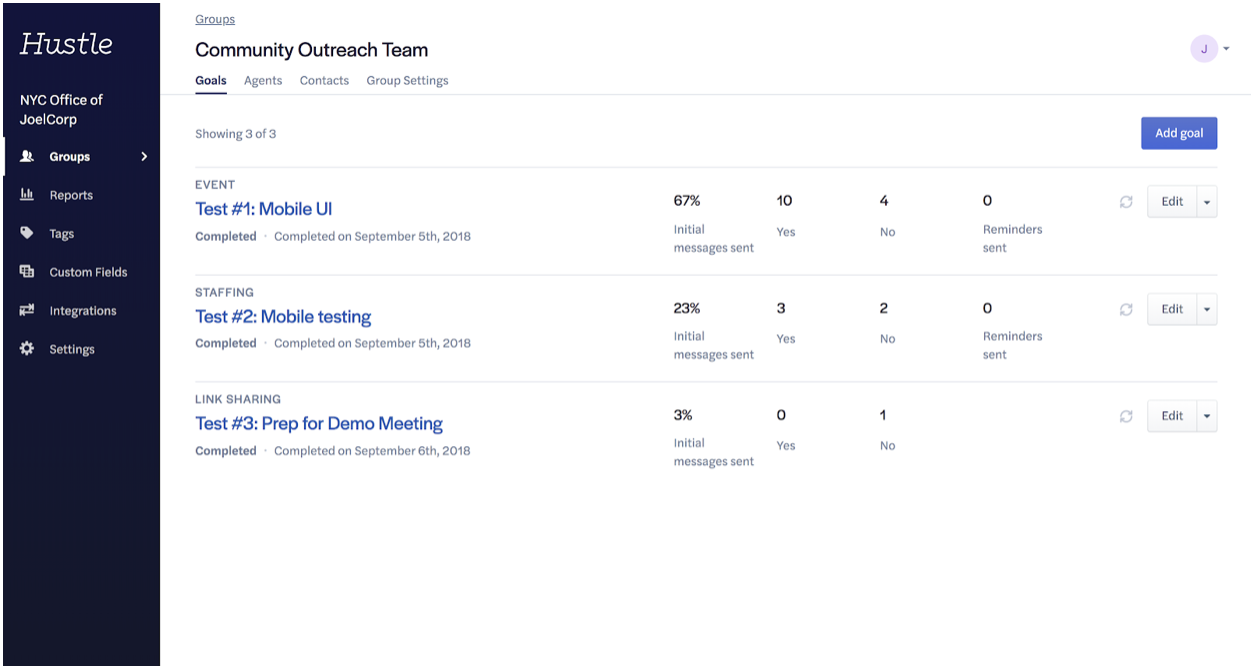 Using shortcodes for Invite
On 4/8 we began using our shortcode 487853 (HUSTLE) for agent invites and have been phasing out the toll-free numbers in batches this week. Shortcodes are best used for delivery of these types of application to person messages and bring an improved delivery rate as a bonus.
Improvements to Tag Reporting
Another improvement to the Tag Report - bringing the date the tag was created into a report on this dashboard helps organizations audit older tags that are no longer needed.

Profile Page Role & Edit Capability
As part of ongoing work to help people manage their Hustle Account, we are adding a 'My Roles' feature that lets users see all Organization and Account Types they hold. Additionally, you can edit this role right on the same page.



04/03/2019
Auth0 Signup on Mobile, Admin and Web
Now all Hustle users are using Auth0 for login!
We're excited about this because we now have a more stream-lined and secure authorization experience for all users. This will also enable us to scale our login process and password management experience. Security and speed, what more could you ask for?
Tag Report Improvements
The tag report has the potential to be used to slice and dice data that client will then upload back into the system. To make it so this is easier, we made a change to split out the firstname and lastname of contacts so you can easily use the downloaded CSV.
Android Notifications Updated
Android users will need to update their app (the latest version is now on the Play Store) and confirm they have notifications enabled in their Settings. This will download the most recent update of our Android app and will level up our Android users!
Top Highlights from Q1
Multi Contact Select Bulk Actions
In order to help clients manage their contact list more effectively with improvements to search and filtering, we now offer the ability for users to deactivate, reactivate, and opt out multiple contacts at once! Our filters now allow you to filter on multiple data points in your Contact list. Once you have narrowed down your search for your Contacts through filtering or search, you can multi-select Contacts to complete the same action in bulk. You even have the ability to select all of the Contacts in your Group to complete any bulk actions as well!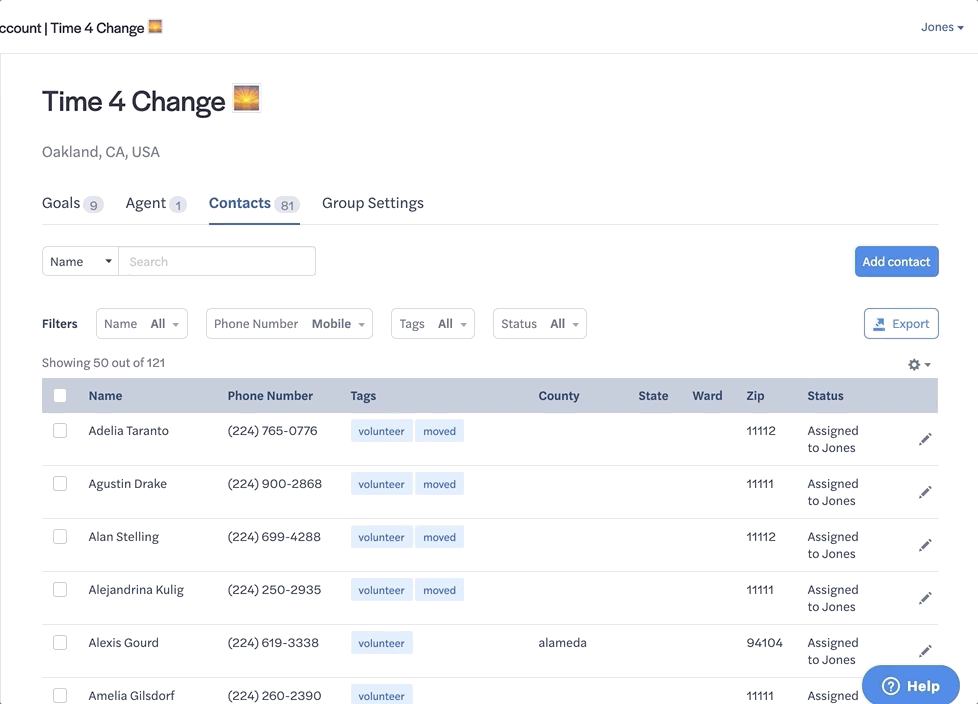 Reports Landing Page
As part of making Hustle easier to use and look great, we improving how users navigate to our ever growing list of reports. In place of the sidebar, we now have stylized icons representing each report alongside a report description. This is represents an improvement in messaging, UI and UX.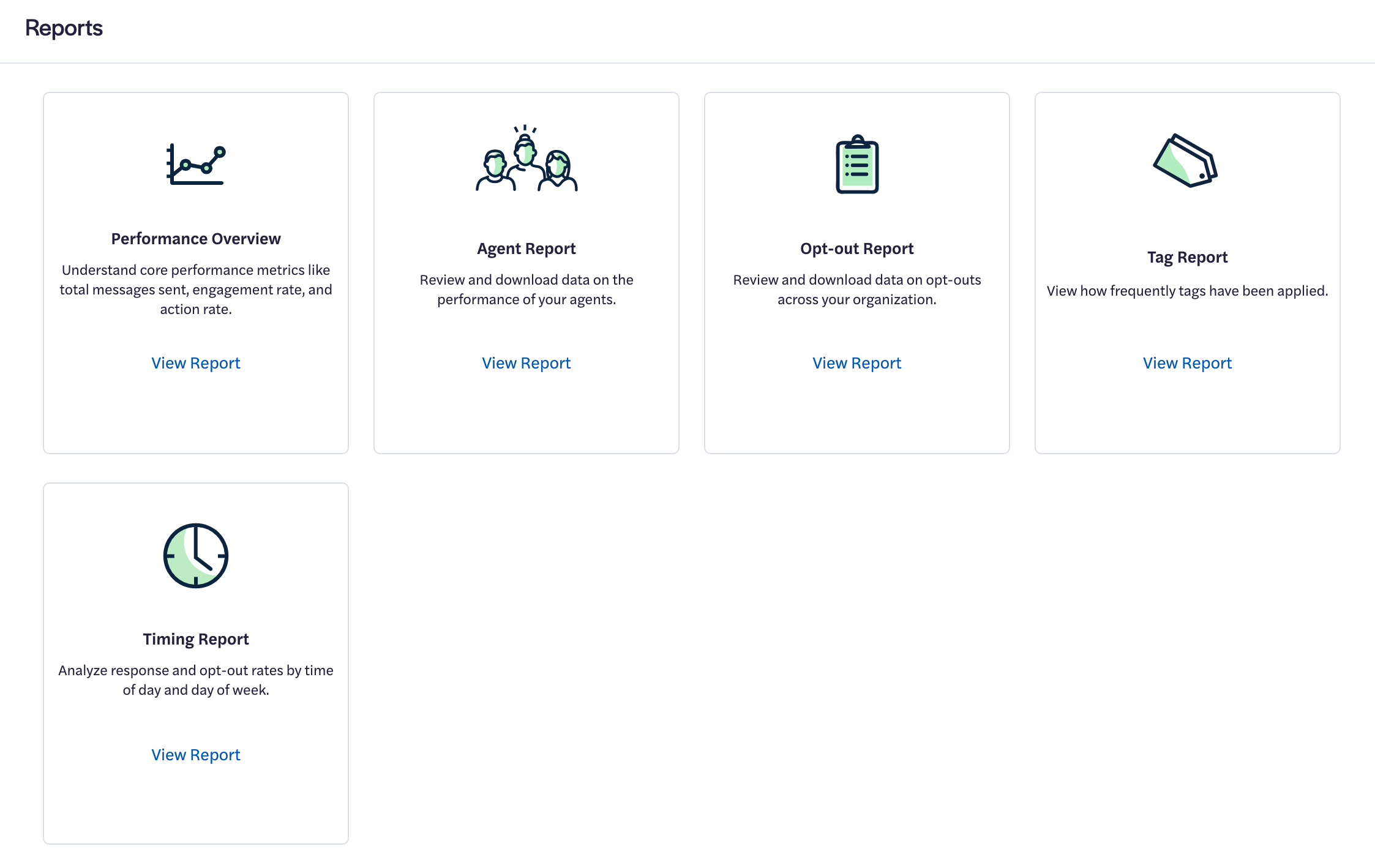 Account-level Reporting
We previously launched a new Reporting screen at the organization level that displayed snazzy tiles for each new report and now we feature the same interface for Account-level reports!
Timing Report
P2P texting is still a new communications channel, and our clients often ask us for insight on what works and what doesn't. One of their main questions is around when the best time is to message their users. We've now provided a new report that will answer exactly that! This is another example of using reporting to provide customized data insights that aren't available anywhere else.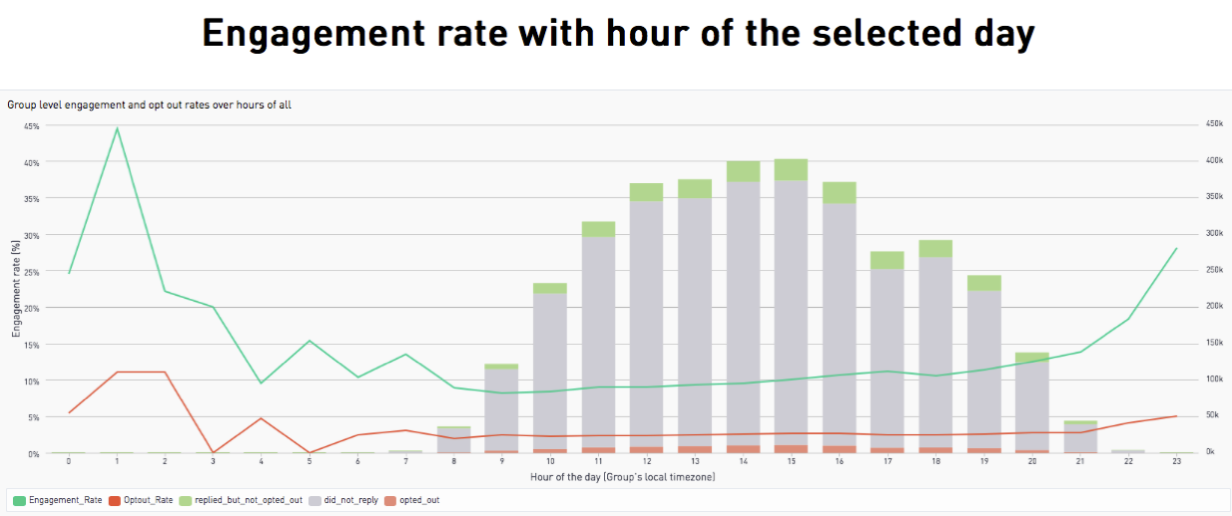 Agent Report
Our clients have long asked for help understanding their agents -- such as which are the most effective and the most productive. We now have in-product reporting that will help admins answer those questions; alongside the ability to filter by date, group and down to a single agent. And you can download the data for offline slicing and dicing!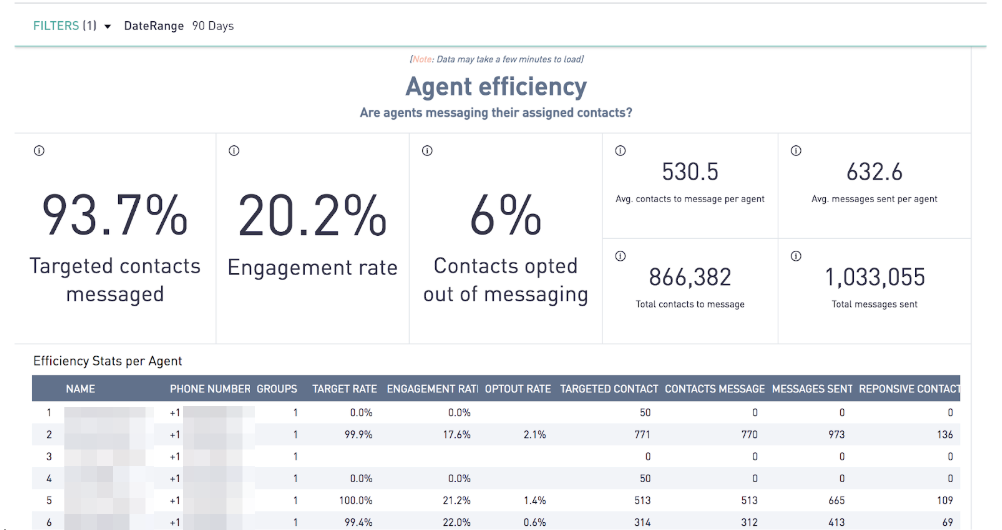 Opt-out Report
A common request from clients has been (a) to be able understand opt-outs to a greater degree and (b) to be able easily export contacts who have opted-out via download. The export functionality in particular is long-requested as it helps clients upload Hustle opt-outs to other channels to ensure they don't continue to contact them.
To deliver on these asks, we are shipping a new report to help clients understand opt-outs and to export the opt-outs. Additionally, we have provided filters to choose a date range, as well as being able to search the contact table view to confirm whether specifics contacts or phone numbers are opted-out.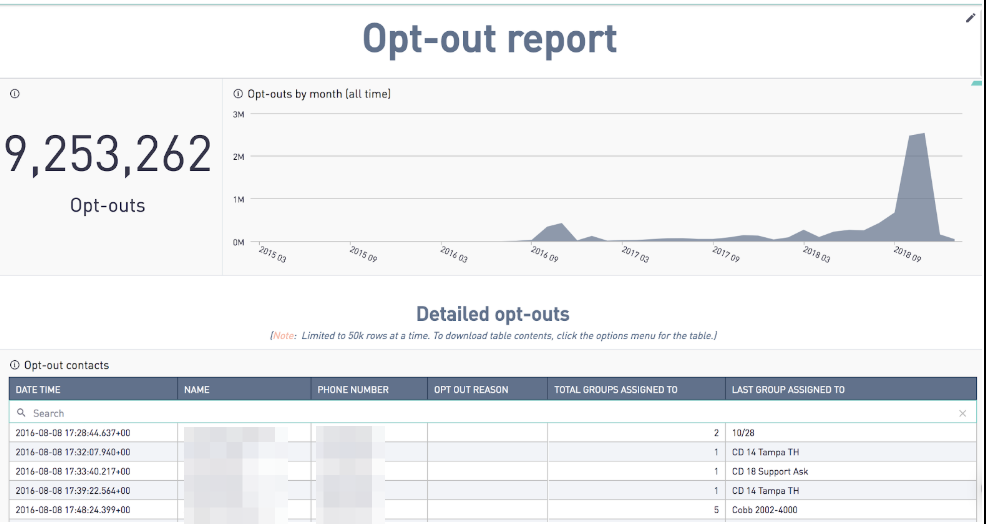 Tag Report
It's critical for Hustle that we provide a great return on any data that users put into our product. Tags are one area where agents input lots of context about their leads but we don't provide any easy summaries or opportunities to act on this information. We've added the tag report, which provides in-product reporting on which tags are being applied and who they are being applied to (including the ability to download all leads who have been tagged with a given tag!).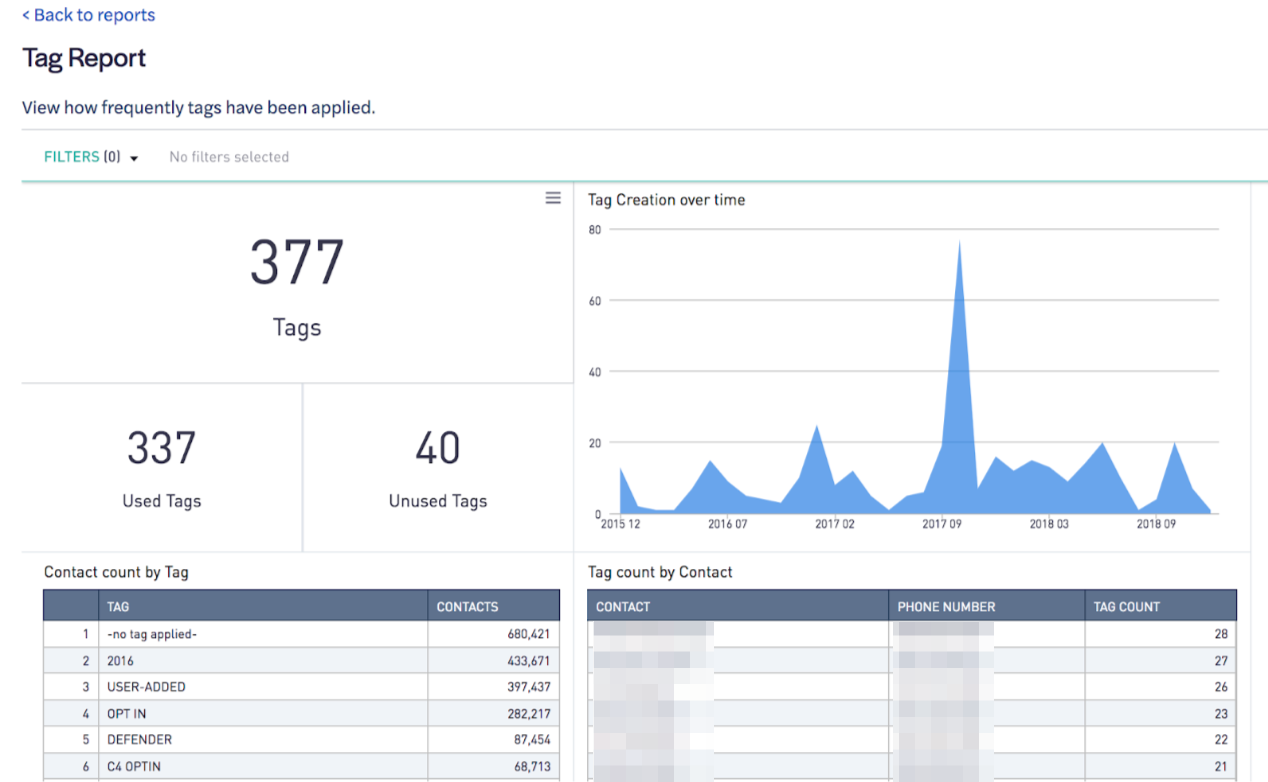 Organization Duplication
Account Admins can now duplicate an organization from the Account Overview page in their Account! They can create a new organization and bring over the following settings from an existing organization:
General settings
Administrators
Hours of Operation
Tags
Custom Fields

Link Tracking v2 - Variable Domains

We have released Link Tracking v2 where clients now have use-case specific domains available for shortening.
We think these domains are great for the following example use cases:
attend.events: for RSVP links or volunteering sign-ups

donates.us: for links to fundraising pages

membershp.co: for links to membership sign-up and renewal pages

sms.gives: also for links to fundraising pages, but uses "gives" nomenclature instead of "donates" (which is a better fit for some organizations)
You can read more about this on our blog post here: Get Valuable Data with Hustle Link Tracking
Link Tracking v2 - Custom Link Support
As part of our continuing work in link tracking, we've added the ability to track clicks on links that come from a custom field value on the contact. Customers who use a customized link per lead can still take advantage of Hustle click tracking as well!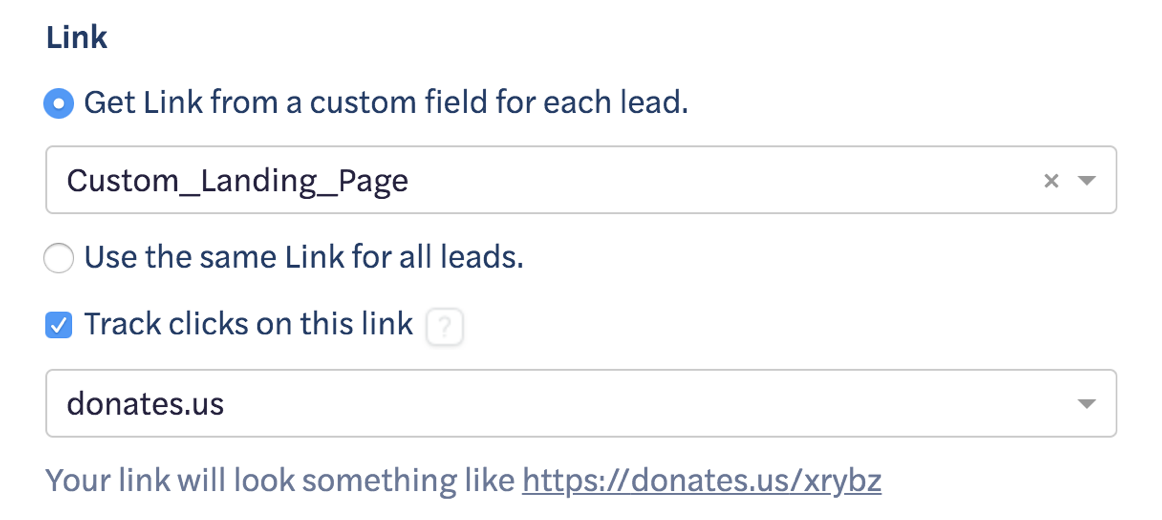 In the past you could only track the same link for everyone in the goal. We added the ability for clients to track clicks on links that come from a custom field value on the contact. This means that customers who use a customized link per lead can use Hustle tracking and detect if someone has clicked on their customized link.
To use it, admins would first need to generate their own customized links for the leads and include that in their CSV upload as a custom field. Then, using the Share A Link goal type, select to use that custom field as the source of the link for each lead in the text and also turn on tracking. The admin can then select which domain they want to use (sms.gives or donates.us for example). Lastly, the admin would then need to add the link variable in their script.
Hustle will send a short link to the lead in the format of the domain that was selected and when a lead clicks on this link in the text, they will be redirected to their customized link.
Also, please note, if an organization does not have at least 1 custom field, this option will not appear on that section of the goal form.
For more information on the Share a Link goal type, check out: Goal Creation - Share a Link
Speedy Messages (Mobile and Web)
Anyone who has sent messages as a Hustle agent knows that 1) it's a unique and exciting experience 2) our apps could be more pleasant to use. In particular, sending the initial messages in a workflow can feel painfully slow. This can lead to poor first impressions of Hustle (including in first-time trainings!).
To address this, we've now dramatically improved the speed of these initial sends in our mobile and web apps! This can reduce the time it takes to do a full set of initial sends by as much as 50% -- something that we think each and every agent will notice. See for yourself: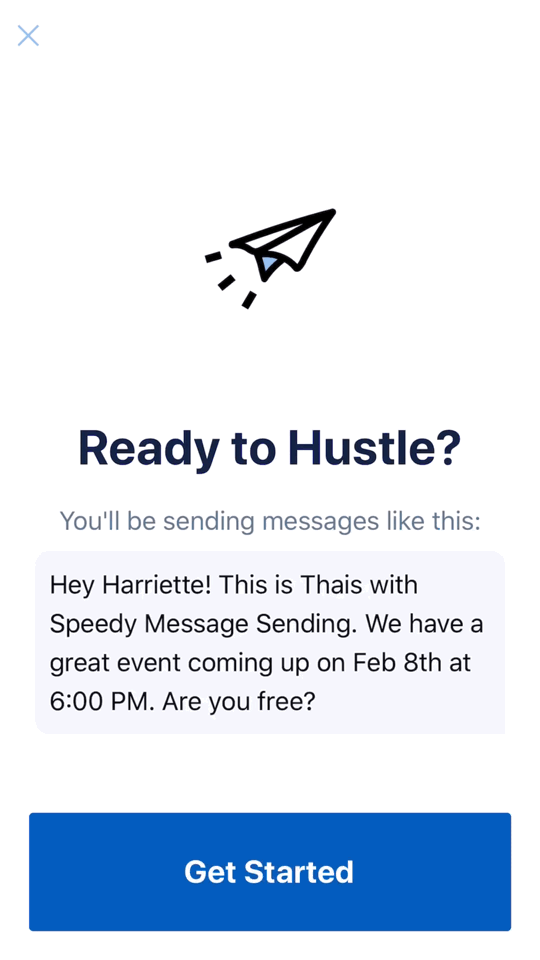 Looking for the archive of Q1's releases? Head to the Q1Y19 Release Notes!