February 2019 
02/13/2019
02/06/2019
January 2019
01/30/2019
01/23/2019
01/16/2019
01/09/2019
02/13/2019
Edit Multiple Contacts
In order to help clients manage their contact list more effectively with improvements to search and filtering, we now offer the ability for users to deactivate, reactivate, and opt out multiple contacts at once! Our filters now allow you to filter on multiple data points in your Contact list. Once you have narrowed down your search for your Contacts through filtering or search, you can multi-select Contacts to complete the same action in bulk.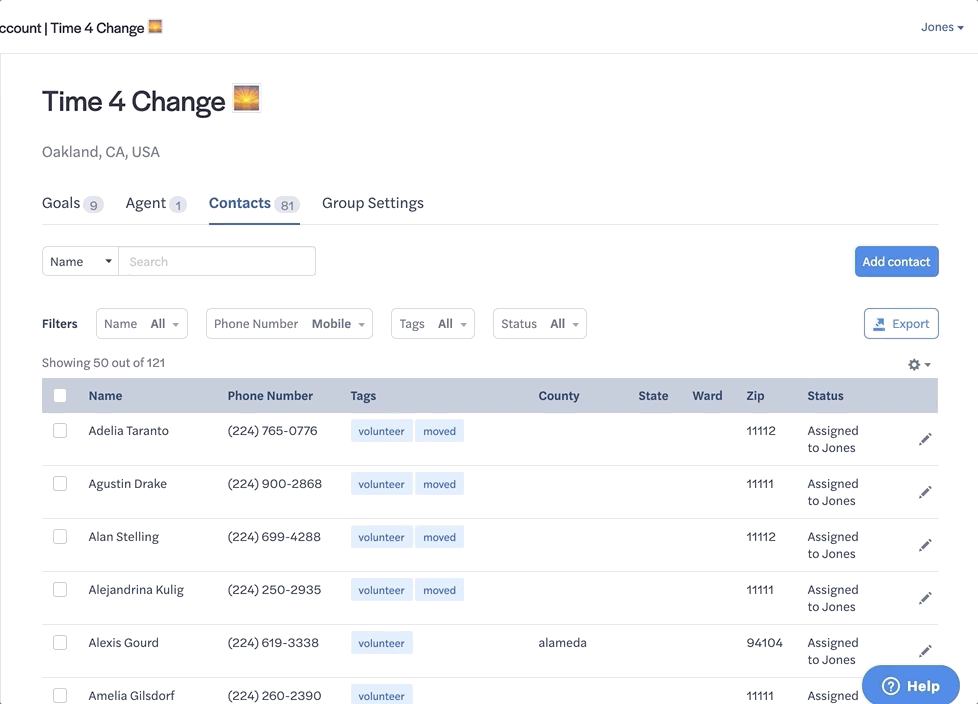 Mobile UI Improvements
We anchored the "Send" button on mobile to make it easier send messages. Changed the progress bar changed to green for more fun! Finally, we upgraded the text message boxes for a more sleek modern look!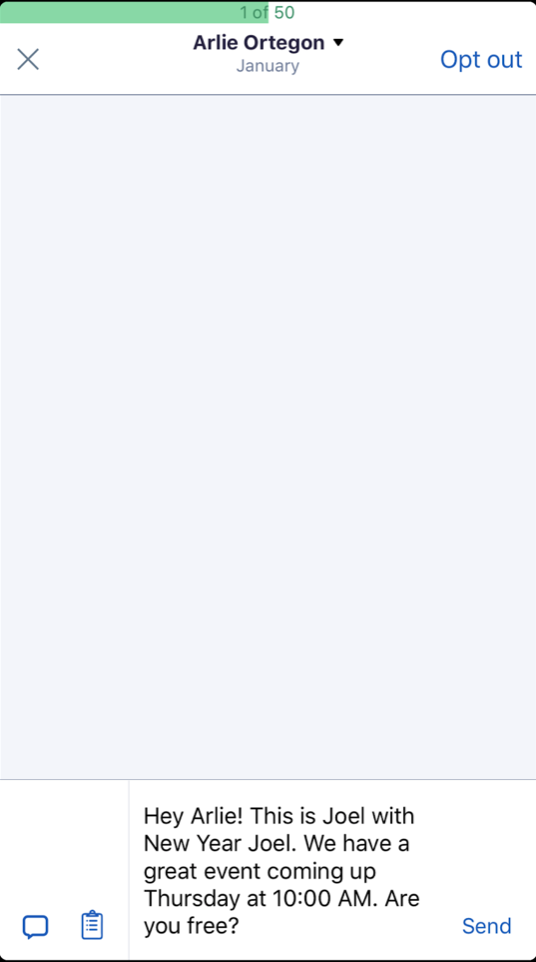 02/06/2019
Group details and table improvements
To help clients more easily navigate Hustle we are going to start uplevelling the many tables across the Hustle application, To begin with, we've included the created date and who created the Organizations at the Account Level; And we've done the same thing with groups.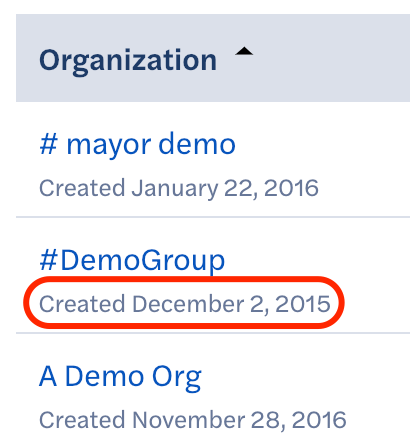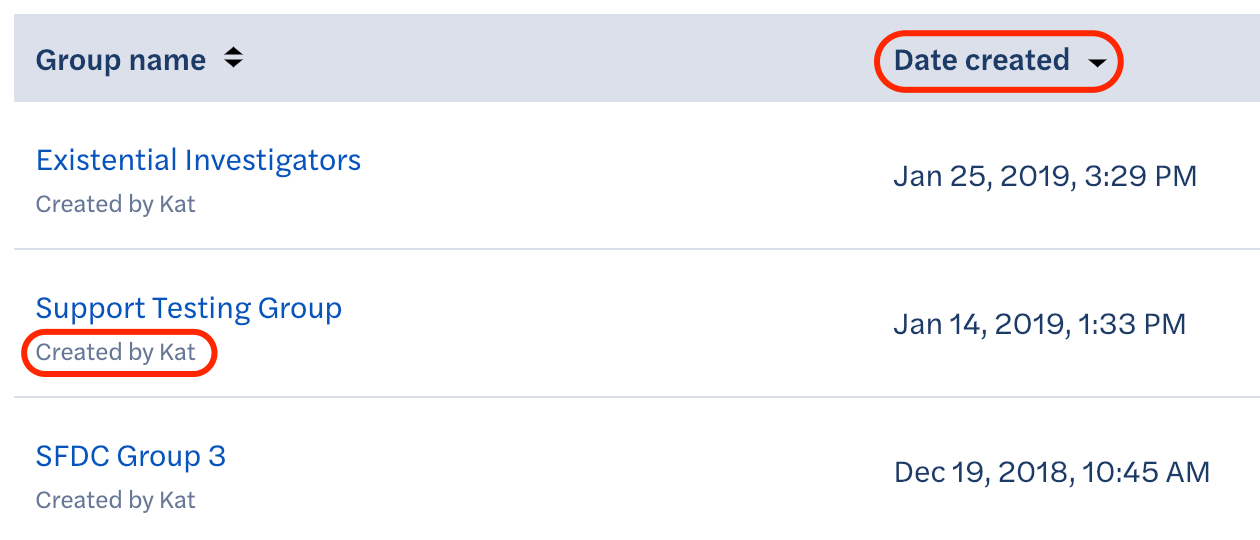 Speedy messages (mobile)
Anyone who has sent messages as a Hustle agent knows that 1) it's a unique and exciting experience 2) our apps could be more pleasant to use. In particular, sending the initial messages in a workflow can feel painfully slow. This can lead to poor first impressions of Hustle (including in first-time trainings!). To address this, we've now dramatically improved the speed of these initial sends in our mobile apps! This can reduce the time it takes to do a full set of initial sends by as much as 50% -- something that we think each and every agent will notice. See for yourself: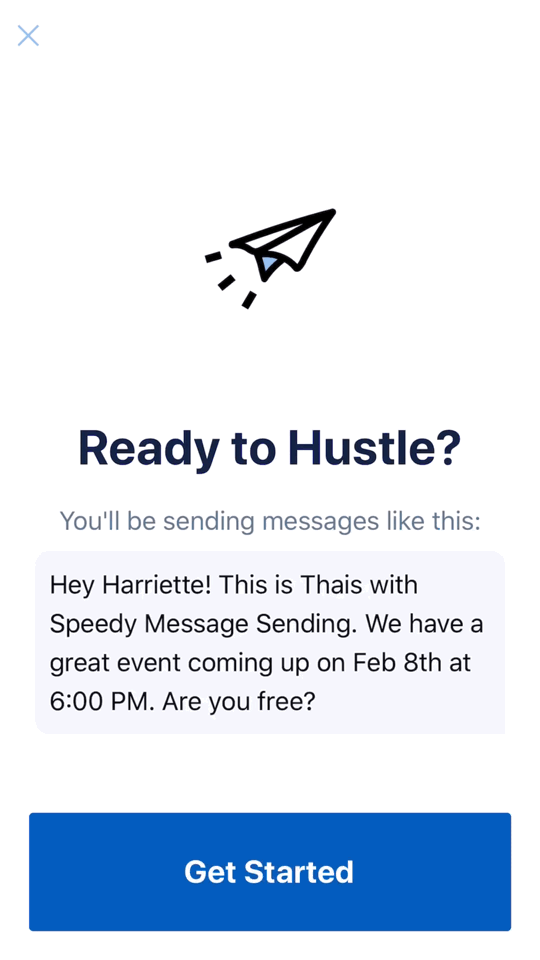 We're currently working on bringing this same initial send speed to our web agent experience -- then we'll explore extending it to replies as well.
Updated visual assets in the App Store and Google Play Store
Both mobile platforms received a facelift in the Preview images in their respective stores. Now when clients visit them, they see current screenshots, not screenshots from 3 years ago. See below for new, updated app-store assets for that one time that Dunder Mifflin used Hustle.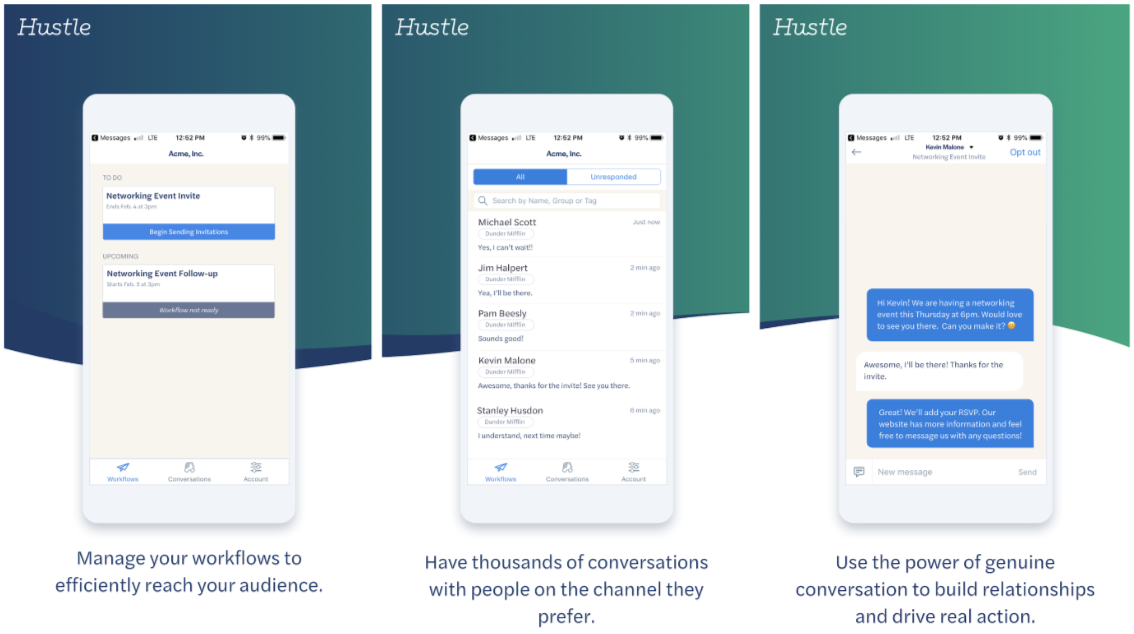 The above 2 launches represent the first steps in a continued investment in making the Hustle iOS/Android app faster and easier to adopt and use.
Tag Report
It's critical for Hustle that we provide a great return on any data that users put into our product. Tags are one area where agents input lots of context about their leads but we don't provide any easy summaries or opportunities to act on this information. Today, we've added the tag report, which provides in-product reporting on which tags are being applied and who they are being applied to (including the ability to download all leads who have been tagged with a given tag!).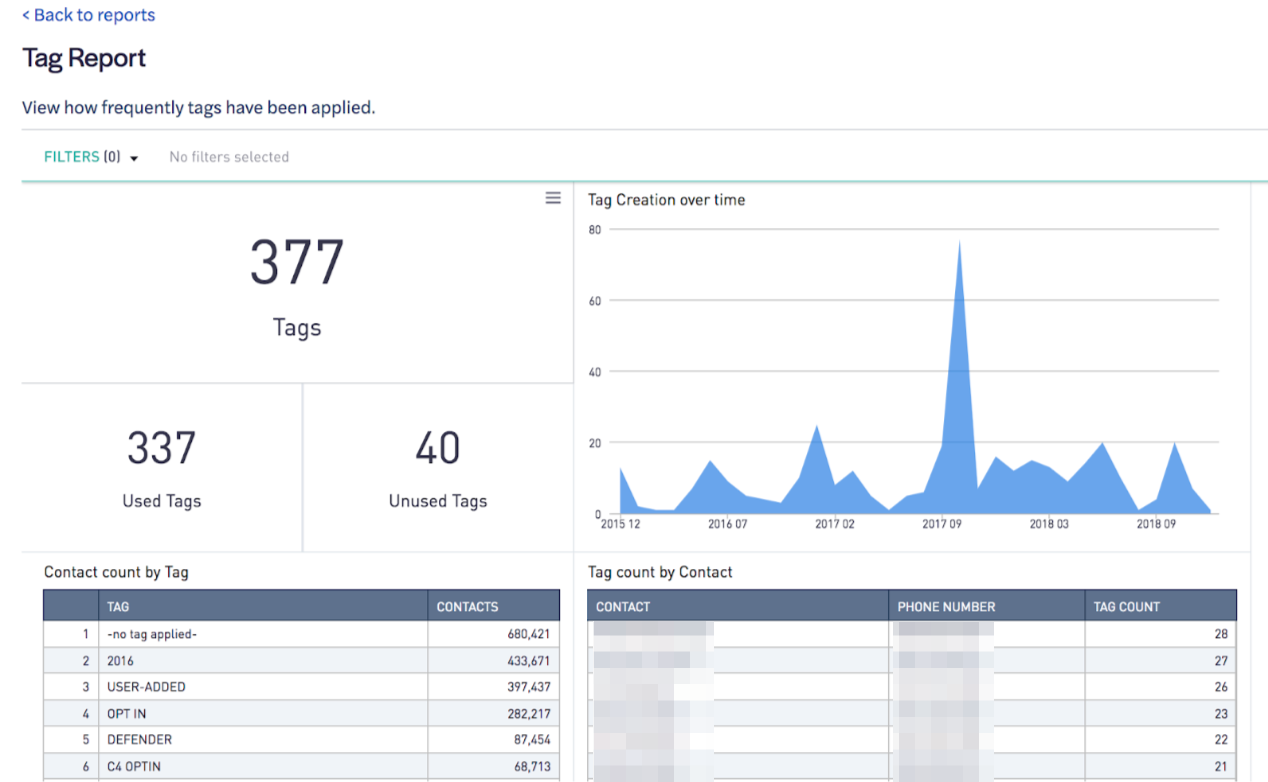 Reports Landing Page
As part of making Hustle easier to use and look great, we improving how users navigate to our ever growing list of reports. In place of the sidebar, we now have stylized icons representing each report alongside a report description. This is represents an improvement in messaging, UI and UX.

Taken together, this new landing page + report represent another step towards making data a core differentiator for Hustle. We'll be launching more reports, bringing a similar design pattern to the Account level and investing in delivering more value earlier in a client's Hustle usage.
New Script Editor
We launched the improved script editor to all clients (was previously in beta)! As you can see below, the new script editor looks great, has smooth performance and includes a better emoji picker. ✌
Before: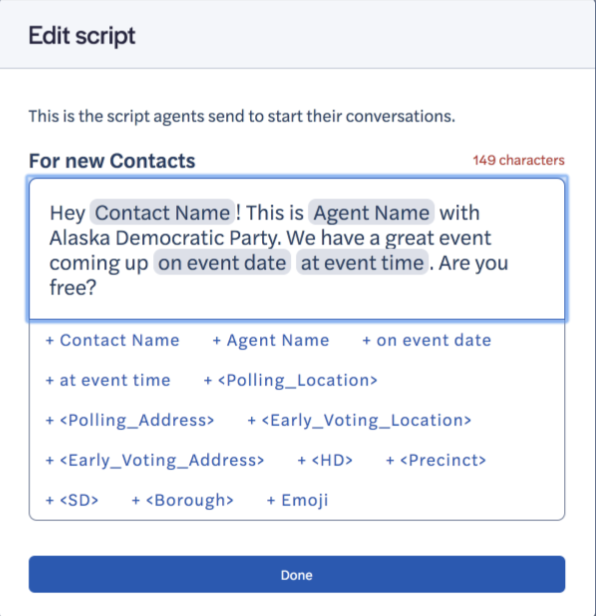 After: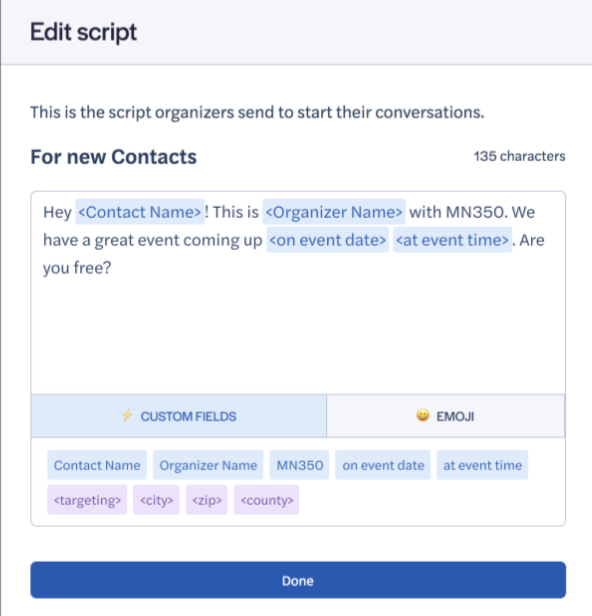 Stay tuned for more great features coming soon!
Improved error states on mobile
We've improved the way we handle error states on mobile! Rather than being left hanging by a spinner (or another error state), users will now see a nice error UI that prompts them with some next steps: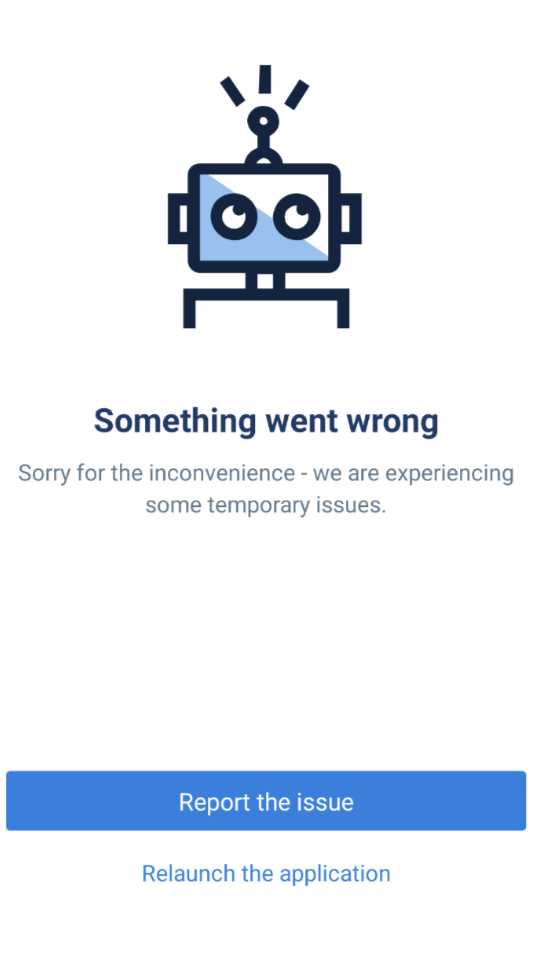 In order to make sure as few people see this screen as possible, we've also improved our error tracking. This should be invaluable to help us find new ways to make our apps more reliable.
Eliminate partial goal creations
In the past, when admins clicked the button to create a goal, the backend would sometimes fail during creation. This would lead to lots of weird user-facing behavior (goals that only sort-of worked) that eroded user trust in our frontend and wasted hours of diagnosis by support and engineering. This would happen 10+ times a week -- an intolerably large number. We've now made our goal creation process more robust so that users will not see partially created goals in the UI any more.
Hiding Bulk Imports
Bulk imports have represented a pain point for our clients -- they are difficult to use and have a high error rate. We are removing Bulk Imports from the side navigation porting of Settings (please note, the bulk import URL will still resolve).  The very few clients using Bulk Imports have minimal usage (only 12 orgs in the last 2 months attempted an upload) and are not sad about the functionality being deprecated in favor of more reliable CSV uploads.
Web emoji keyboard
Finally, you asked for it and you got it… we now have an emoji keyboard on web! No more memorizing awkward Mac keyboard shortcuts :)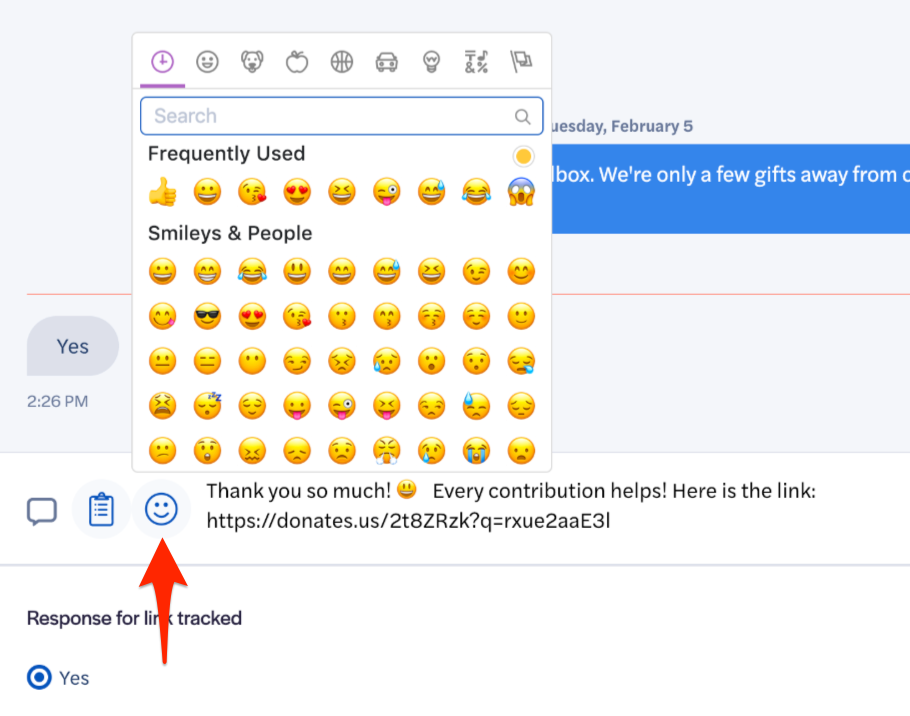 Additional Changes
Android SDK Update

Link Tracking beta release
01/30/2019
Phone number releases from 60-day inactive groups
Earlier this week, we continued the process of informing clients via email and an in-product banner about deactivating groups that hadn't sent or received a message in more than 60 days.
01/23/2019
CSV Upload Improvements
We've had a long-standing issue where the list upload process is unreliable and provides minimal error-messaging to clients (often clients would end up at a blank white screen). Today we are taking steps to improve this experience.
Firstly, we are increasing the size of files that you can upload. Previously our uploader would fail on files above 10 MB, now we are able to accept uploads as large at 50MB.

Secondly, we are improving our error messaging, users should no longer land at a white screen when there is a failure;

Finally, we are continuing to invest engineering resources to improve the reliability & usability of this very important flow that the majority of clients currently use (so expect to hear more about uploads!)
For context, focusing on non-profits and higher education clients, ~70% of all contacts uploaded by these clients were done via our upload tool. One final note, we are continuing to implement the limit of 100,000 for contacts in groups. Files that have more than 100,000 lines will encounter an error providing guidelines on next steps they can take.
Opt-out Report
A common request from clients has been (a) to be able understand opt-outs to a greater degree and (b) to be able easily export contacts who have opted-out via download. The export functionality in particular is long-requested as it helps clients upload Hustle opt-outs to other channels to ensure they don't continue to contact them.
To deliver on these asks, we are shipping a new report to help clients understand opt-outs and to export the opt-outs. Additionally, we have provided filters to choose a date range, as well as being able to search the contact table view to confirm whether specifics contacts or phone numbers are opted-out.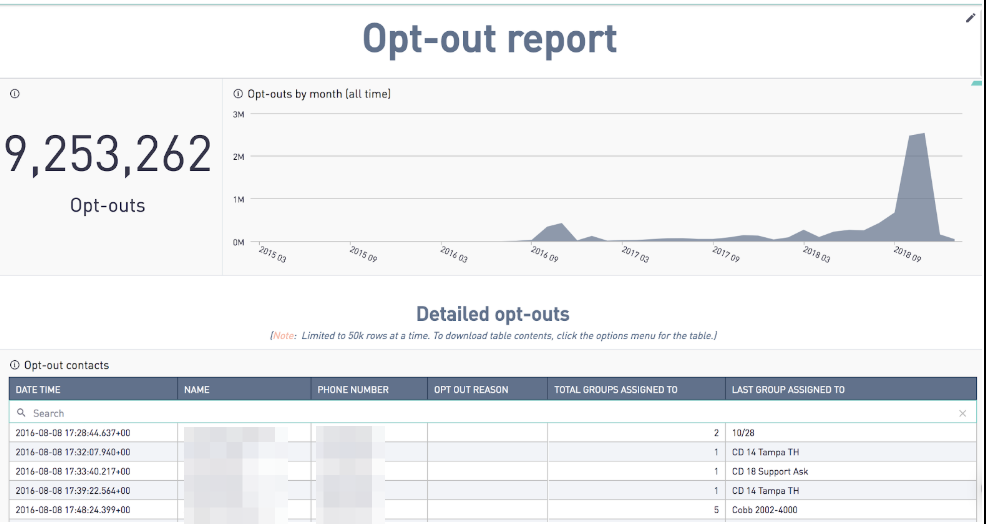 This represents the second report we'll launch this month, and it won't be the last.
Removing Unused and Broken UX
Removing Account Feedback Prompt
This prompt was in place during the beta period of the migration to Accounts. It's no longer needed as we are well past Accounts being in beta. We are removing this prompt; but we'll be retaining the functionality should we want to reintroduce it elsewhere in the admin application.
Removing User Profile Email settings
We are removing two checkboxes that individual users could use to (a) Get Notifications on completion of exports; and (b) Receive weekly updates on goal progress. Why are we removing these? ...Well because they didn't do anything at all and were likely to confuse users. We'll be revisiting how we use email as we move through Q1.
Additional Changes
BlackBaud Luminate beta release
01/16/2019
Fix Alignment and Styling in goal stats
Before, we had an alignment bug that was highly visible to almost anyone using the product:

After, we have a nice, clean alignment!

Fixed Export Button to be a real button
Remember when the "Start new export" wasn't a real button, but instead was a link (that didn't even show up as clickable when you hovered your cursor over it)?. ...No, we can't remember that either.

01/09/2019
First come, first serve duration setting
Customers (particularly those with call centers) have long asked for flexibility in how Hustle reroutes first come, first serve (FCFS) leads that weren't responded to. Admins now can now reroute FCFS leads as quickly as 5 min after the message is received, or as long as 24hrs after!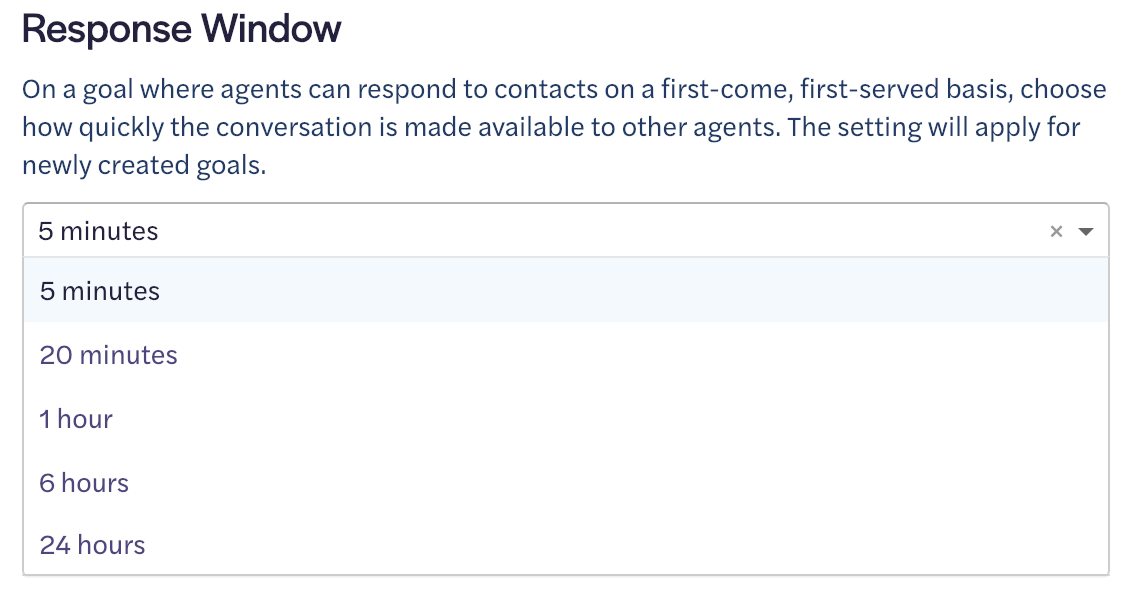 Agent Report
Our clients have long asked for help understanding their agents -- such as which are the most effective and the most productive. We now have in-product reporting that will help admins answer those questions; alongside the ability to filter by date, group and down to a single agent. And you can download the data for offline slicing and dicing!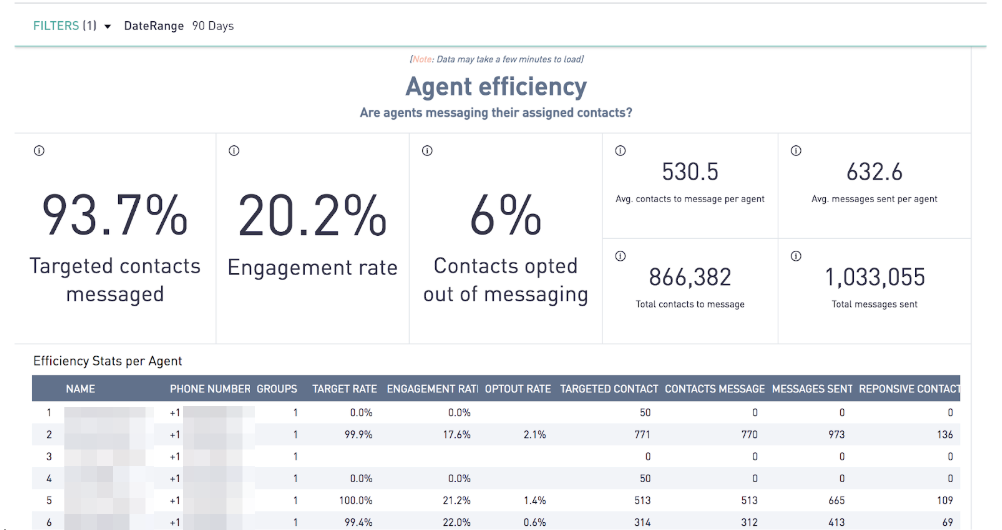 Additional Changes
Enhanced CTAs on Agent and Admin Login on Web & Mobile

Fixed Account Dropdown UI in Agent Web


Improved Script Editor beta release