Did a Contact change their name? Want to add a follow up note as an Administrator? Keeping your Contact's info up to date in Hustle is key to creating strong, genuine relationships! This article is going to highlight the ways for you to edit your Contact's information in Hustle from adding tags and notes to changing a First or Last name in a few simple steps.
Editing Contact Information in the Admin Panel
Head on over to the 'Contacts' tab and locate which contact you want to update (you can search for contacts by name in the search bar at the top right of the screen

Click the ellipsis on the right side of the screen

Choose 'Edit'

In the pop-up window, you can change the contact's first name, last name or email as well as adding notes or follow up comments about the contact

Finally, you can add a tag to a contact's profile by simply typing in the tag you want to add in the dropdown menu under 'Tags' the bottom of the screen

Once you are all set making your changes, press 'Save'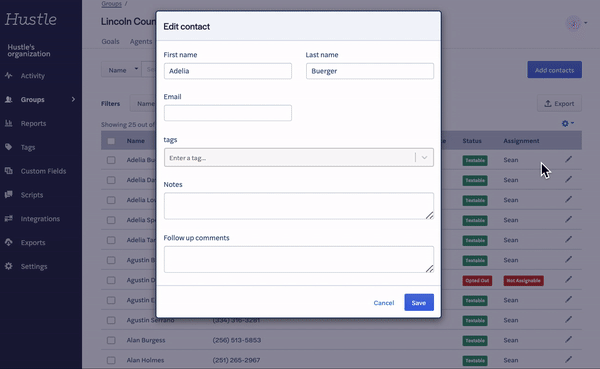 NOTE: You do not have the ability to change a Contact's phone number in this window due to the fact that this is how Hustle manages Contacts. In order to change a phone number, deactivate the old Contact with the old phone number and create a new Contact with the updated phone number.