Need to Knows for Hustle/EverTrue Integration
How do I setup the Hustle/EverTrue Integration?
How do I add my Constituent IDs to Hustle?
Hustle has a number of integrations including the ability to sync with EverTrue, an advancement software for Higher Education! You have the ability to connect your Hustle instance into your EverTrue database to sync your messages as a constituent interaction. Want to learn more about how to get this setup for your Hustle Organization? Take a look below!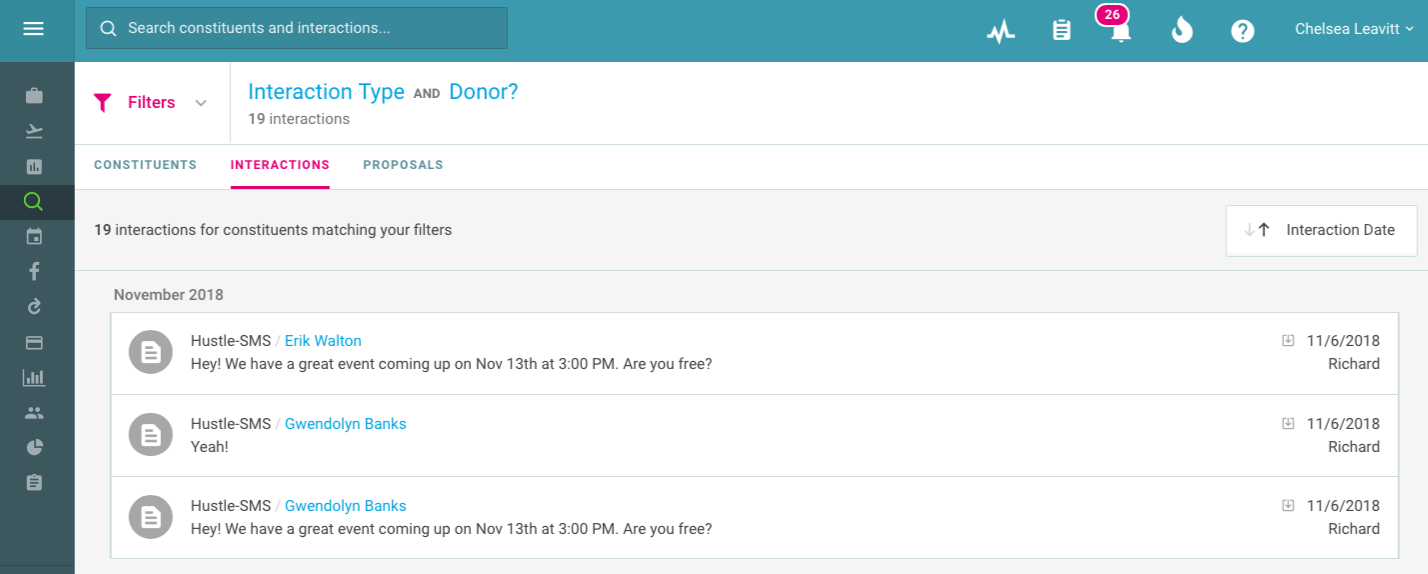 When you integration Hustle and EverTrue the conversations that you are having with your community will sync back into EverTrue as constituent data so you can track those conversations and be the leader in relationship management. Say so long to the days of no rich data!
Need to Knows for Hustle/EverTrue Integration
An agreement must be signed between your institution and Hustle that allows Hustle data to be sent directly to EverTrue. Before any data can be exchanged, this agreement needs to be in place. Please contact Hustle to begin this process.

Please notify EverTrue Support (genius@evertrue.com) prior to enabling your Hustle integration to ensure your EverTrue platform is set up to accept Hustle's data. In the event that the setup has not been completed, we can always do so post-integration.

Hustle files will be delivered through EverTrue's Import tool. With that, the Hustle CSV data file will need to be mapped for a successful ingestion. If your Hustle data does not appear in EverTrue within 24 hours of enabling the integration, please contact genius@evertrue.com for further assistance in making sure the file is being transferred, mapped, and ingested properly.

If you are not currently using SFTP to deliver data to EverTrue, contact genius@evertrue.com to get your SFTP credentials and enable auto-ingestion for your account.

If you are not currently importing Interactions into EverTrue, contact genius@evertrue.com to enable this feature.

Once Hustle is enabled, please ensure any subsequent interaction files imported into EverTrue from your institution are only marked as standard files (

not full

).
Because Hustle data will be ingested through EverTrue's Import tool, you can view a history of delivered files at https://console.evertrue.com/data/importer
How do I setup the Hustle/EverTrue integration?
So you've checked all the steps above and you are ready to get started setting up your Hustle EverTrue integration? Awesome! Let's hop right in!

To get started with an EverTrue Integration, follow the steps below:
Contact Hustle (support@hustle.com) to have the EverTrue integration enabled for your institution and make sure the required agreement has been signed by both parties.  

Make sure you have your

EverTrue SFTP Username and Password

on hand. If you are using a public key for SFTP and do not have an SFTP password, please contact EverTrue support.  

In Hustle, go to the organization Settings menu and click on Integrations. You will see a menu of integration choices.

Click on the Add Integration button under the EverTrue logo. 


Enter your EverTrue SFTP Username and Password.

Click on the blue Authenticate button. Hustle will confirm with EverTrue that the username and password are correct.  The settings page will report back that the integration was successful.

Once confirmed and enabled, you will see a green checkmark next to the EverTrue logo on the main Integrations page.



 
How do I add my Constituent ID's to Hustle?

From your database, export your target list of constituents into a CSV file. Make sure they match to their database person ID.

In Hustle, navigate to a group. Click on Constituents (Contacts) tab of the group.
Click Add Contacts → Choose a CSV File. Select the CSV file of constituents from your computer.

You will be prompted to map your CSV fields to Hustle fields.

Make sure to map the column that contains the Person ID to the 'EverTrue Integration [evertrue]: RemoteID'  field. 
Click Upload CSV. Hustle will import these constituents to the group. All contacts will have their Person ID (i.e. EverTrue Integration ID) listed below their name. 
Once all contacts have a PersonID, Hustle will deliver a CSV file of your message data to EverTrue on a regular basis.
NOTE: This integration does not sync over constituent data from the Hustle platform, like opt-outs or declines. All constituent information will come to EverTrue through your database of record. EverTrue only receives message/interaction data from Hustle directly.