It happens: Sometimes your organizers are no longer available, move on to a new job, are added by mistake, or simply don't show up for a shift and need to be removed. This guide will explain how to remove an agent from a Hustle group. You will need organization or group level access to perform these actions. 

Removing an Agent from a Group
1) In the Hustle admin panel, select the group you want to remove agents from and go to the "Agents" tab.


2) To the right of the agent's name, select "Actions" and click "Remove from Group": 

3) Confirm how you want the departing agent's contacts to be reassigned. You may either reassign to one or several other agents, or leave contacts unassigned temporarily. You will see a reminder to assign contacts before you create your next goal. If you use first come-first served goal methods, these contacts will still be included if targeted, but if you use assigned goals, be sure those contacts are assigned!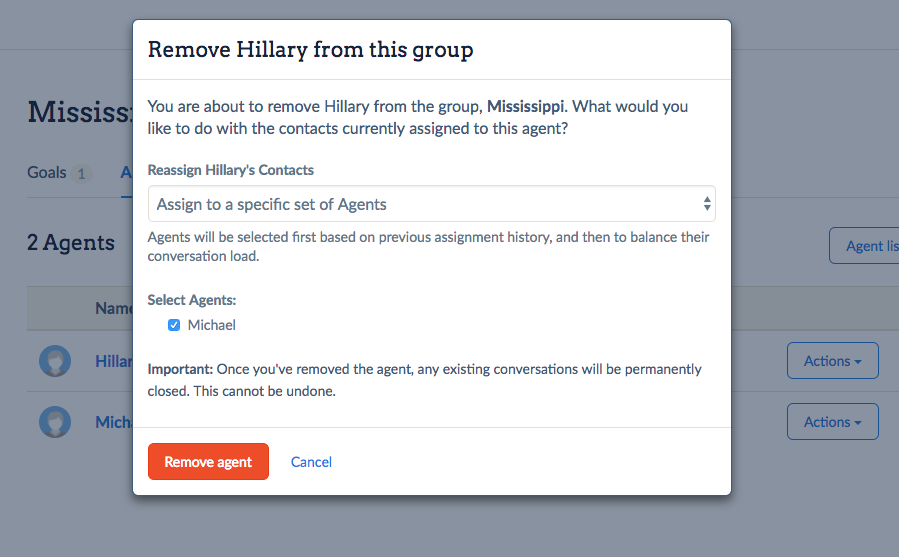 4) Remember, once agents are removed, existing conversations will be permanently closed. If you reassign contacts to another agent, they will be reaching out freshly from a new local phone number. 
5) Repeat that delete for any additional groups in the org as needed.