When setting up a new group or organization, you should consider exactly what information about your contacts you'd like to track. Tags are one of a couple a helpful ways to collect information from people you contact on Hustle. Here are some ways admins can add tags during a bulk import, add tags through the mobile app, or target Hustle goals to contacts using specific tags. 

How to Tag Contacts During Bulk Importing
1) Make sure you have already created the tag in your Organization Settings.
(For information on how to create tags, please visit this article.)
2) In the Contacts tab of your Admin Panel, click the Add Contacts button and select the CSV you would like to bulk import.
3) Select the tag you want to apply your contacts by clicking the drop-down menu under "Are these Contacts associated with tags?", as shown in the image below.
4) Click the Import Contacts button to begin your bulk import.
Administrators may apply a tag to existing contacts in a group by re-uploading the CSV of contacts they would like to tag and following the steps above. Doing so will not duplicate contacts-- instead, the tag will be applied to existing contacts. Any new contacts will be added to the group and also be tagged.
How to Add a Tag in the App
To use tags to gather information during your Hustle workflows: 
1) Tap the contact name at the top of the conversation window.
2) Tap Add Tags. 
3) Search for the tag you wish to administer, then tap the + next to the tag you wish to apply.
--
Note 📝: You can only apply tags that have been added through the admin panel in the Organization Settings— you cannot add tags through the mobile app.
Use Tags to Target Goals Towards Specific Contacts
1) In the Goals tab, click the Create a Goal button. From there, you can do the initial goal set up.
2) In the Targeting section, select either: 
"match all of the following organizational tags" 
- or -
"don't match any of the following organizational tags"
3) After choosing the option, select the desired tag in the corresponding drop-down menu, as shown below: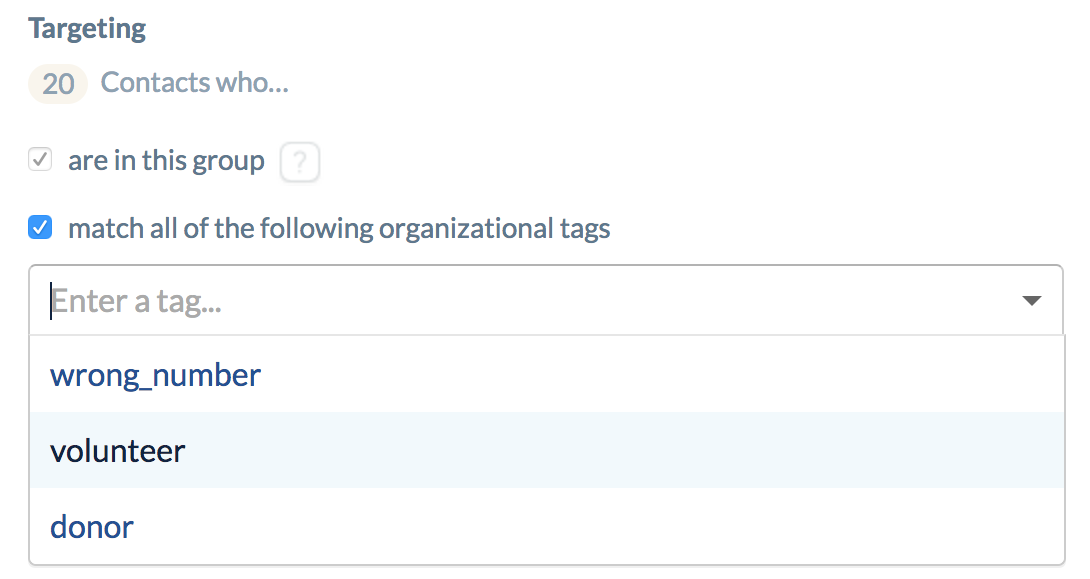 Now, the goal will or will not include contacts who have this tag from the upload and/or have been tagged in the app will be added to this goal's workflow.