Welcome to Hustle! 🎊 This quick start guide provides instructions on how to get started texting using Hustle.
Skip to:
Creating your account
You'll need to create a Hustle account to text using Hustle. For detailed instructions on how to create your account, see How do I create a Hustle Account?
Note: If you've Hustled before you don't need to create a new account! As long as you're using the same number, you can login with the email you signed up with and use the same account to text for multiple organizations.
Getting started with Hustle
Your admin will send you an invite via text with your

invite token

. Tap the link in the text.

If you have a

landline number

, or

signing up on a computer,

go to

web.hustle.com/signup to begin creating your account.
If you don't receive the invite text, reach out to the manager of your Hustle texting effort. They can resend it by following the instructions in What if I didn't receive an invite?

Enter the phone number you got the text at under Phone number

. Enter your invite token under

Invite token

and click

Verify Token

.

Note: Your invite token is the last five letters of the link in the invite text.

On the next page enter:

Email

: The

email address

you want on your account.

Name:

Your

name.
Password:

The

password you want for your account. (Passwords must contain an uppercase character. For more information, see Password policy requirements.)
Confirm password:

Re-enter the

password you want for your account.

Double check everything you've entered is correct >

Sign Up.

Note

: If you make a

typo, you can open the link in your invite token in an incognito window to start over.

You'll receive an email from

no-reply@hustle.com

with a link to verify your email. Open the email and click

Confirm my email

.

If you don't receive the verification email check your junk and spam folder.

You'll be taken back to Hustle and logged into your brand new Hustle account! Click Hustle

in the top left corner to go to your Hustle profile's main page where you'll text contacts.
If you don't see any messages (also known as workflows) to send, reach out to your admin to verify you're in the right group and there is an active workflow in the group.
How do I text?
Logging into Hustle
After you've created your Hustle account, you can use the Hustle web app or Hustle mobile app to message contacts.
After you open the Hustle app, enter your email address and password.

You'll be taken to the main page of your Hustle profile where your

workflows

will be.

When your group has a goal with messages to send they'll appear on this page. You'll send messages to contacts in these

workflows

and use pre-written scripts or personalized messages to start and respond to conversations.

There are three types of workflows:

Workflow Completed: Completed workflows.
Begin Sending Messages

: Also known as

initial

workflows; where you begin the conversation with contacts and send the first message.

Reply to... unreads

: Also known as

response

workflows; where you reply to unread messages from contacts.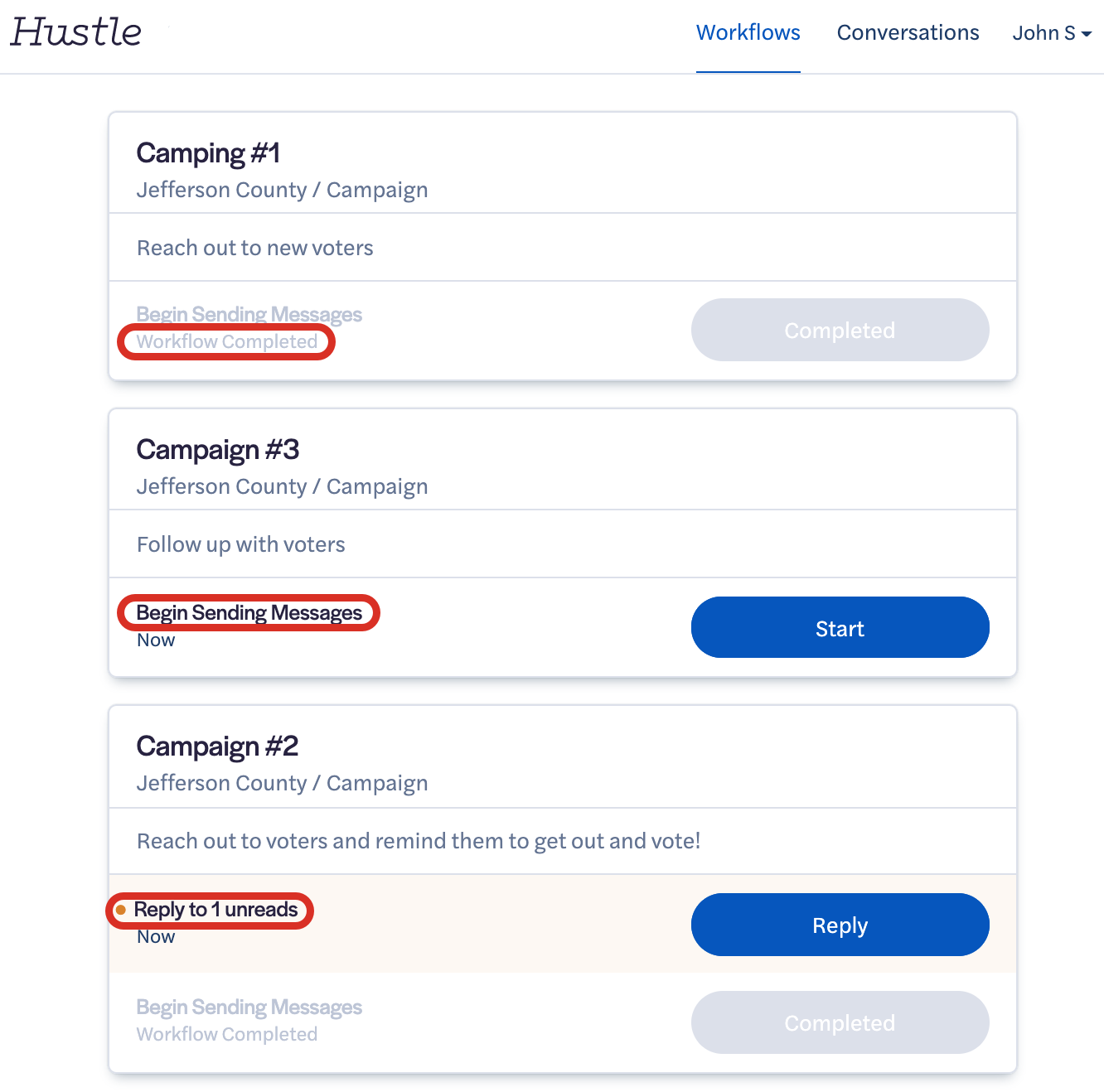 Tap/Click Start to go to the Hustle Messenger where you'll start messaging contacts.
How do I message contacts?
The Hustle Messenger is where you message contacts and capture data from conversations.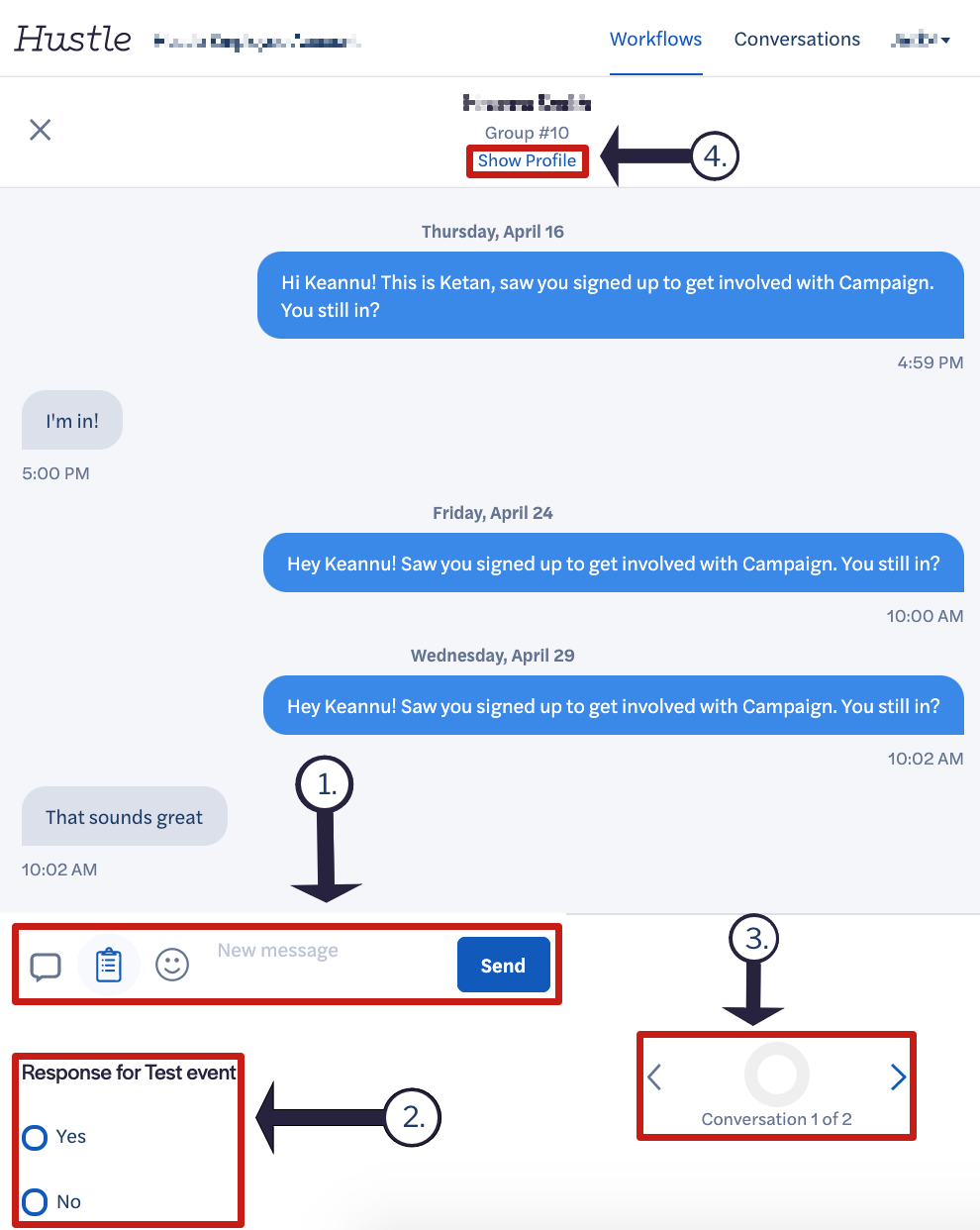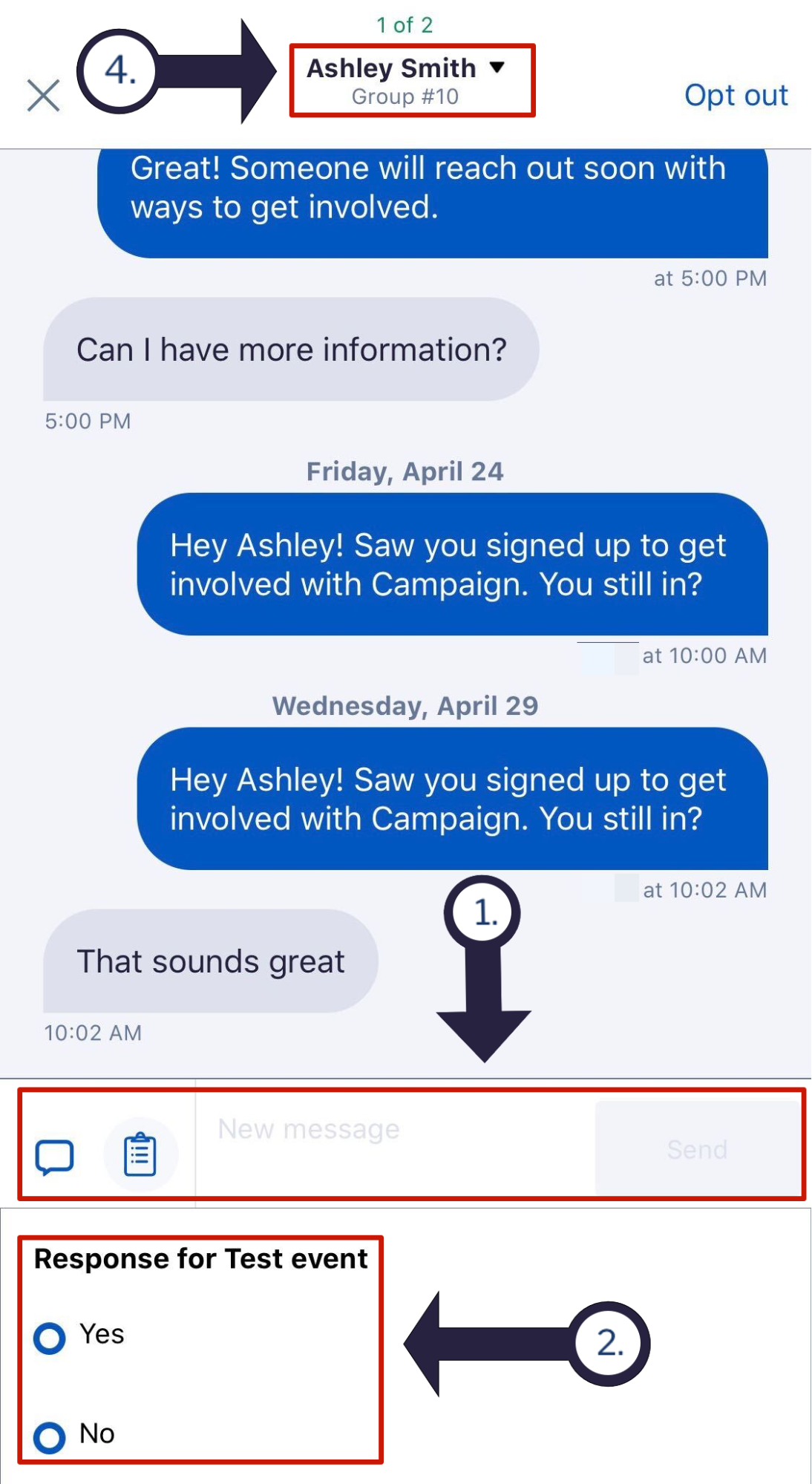 The

Message box

is where you'll send and edit messages to contacts.

Next to the Message box

are:

Scripts (

): Pre-written messages you can use to text contacts.

Lead actions (

): The response you mark for contacts (Yes, no, declined, etc.).

Emojis (

): An emoji keyboard. (😊, 😁, 🎉, etc.).

Lead Actions:

This is where you'll mark the contact's response to the goal based on their response.

Progress Circle:

This shows your progress through the current batch of contacts. To skip contacts click the right arrow.

Note

: On the Hustle mobile app, information appears above the contacts name. To skip contacts, swipe left on the screen.

Show Profile

: Click

Show Profile

to apply tags, opt out contacts, take notes, etc. For more information, see

How do I opt someone out from Hustle?

Note

: To opt contacts out on the Hustle mobile app, tap

Opt out

in the top right corner.