One of the leading reasons to use Hustle is trackability and the data that can be yielded from genuine conversations. For this reason, Admins can find an entire Reports section within the Admin portal.
Reports for organizations can be viewed by Organization and Account Admins and encompass all Groups within the Organizations.
Performance Overview
Agent Report
Opt-out Report
Tag Report
Timing Report
Performance Overview
The Performance Overview is the synopsis of how an entire organization's conversation life-cycle is performing. This tool allows admins to see how their overall account is performing, as well as specific groups, in key reporting areas.
A more detailed explanation of what is possible can be found here, Using the Performance Overview Report.
Agent Report
Agent Efficiency reports on whether agents have been messaging their assigned contacts.
Agent Effectiveness reports on how often an agent records a response from a contact by selecting a lead action.
NOTE: If there is no data present for an agent, they will not appear in any table.
You can download any data you have displayed on your table as an individual data point, which will download as a CSV. To do this, hover in the upper right corner of the data table and click the three lines that indicated 'More Options.' From there, select 'Download Data.' Keep in mind that the data that downloads are the numerical points displayed on the chart, not the chart itself.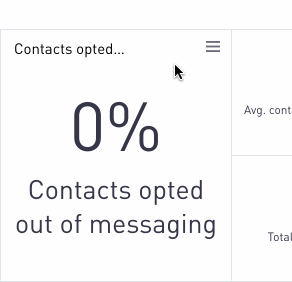 If you wish to share the data as a chart, you will need to take a screenshot of the graphical version in this dashboard. There is currently not a way to export the graphs at this time.
Opt-Outs
This area contains a complete list of all org-wide opt-outs for your organization and allows you to sort them by Contact Name, Opt-out Date, Phone Number, Opt-out Reason (if it was present at time of opt-out), Number of Groups Assigned to and Last Group Assigned to.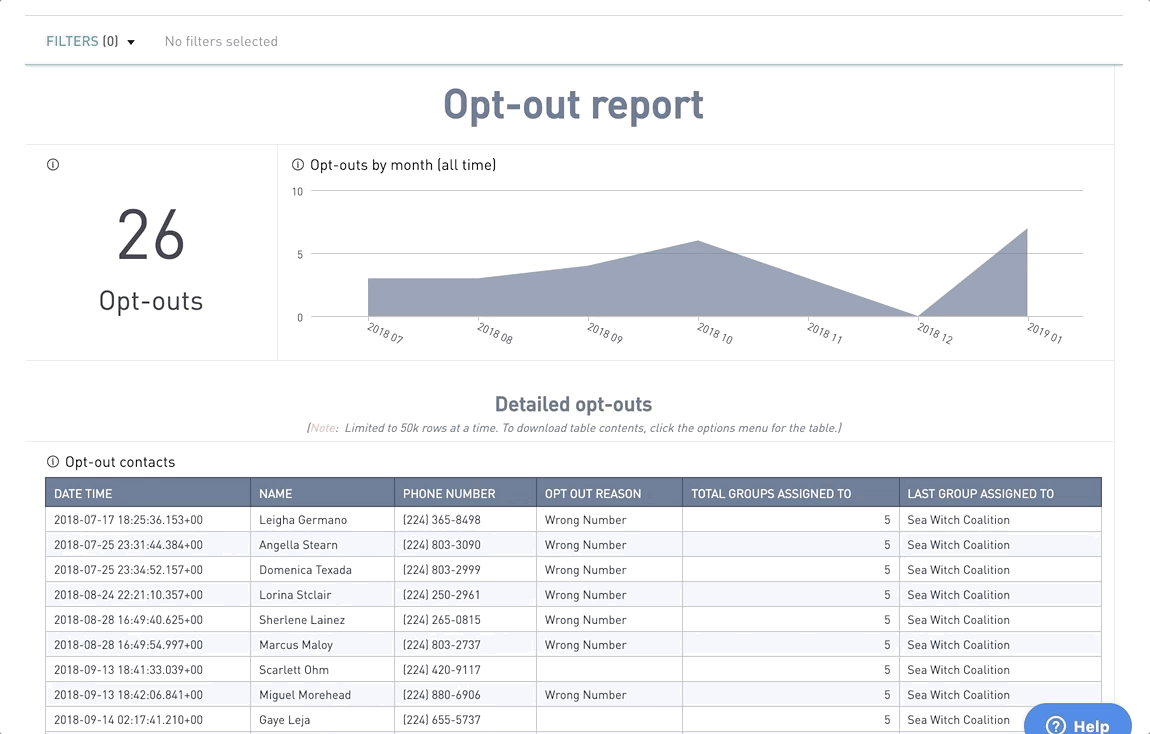 You may also search for your opt-outs via any of the recorded details, including Phone Number, Name, Opt-out Reason (if present at time of opt-out).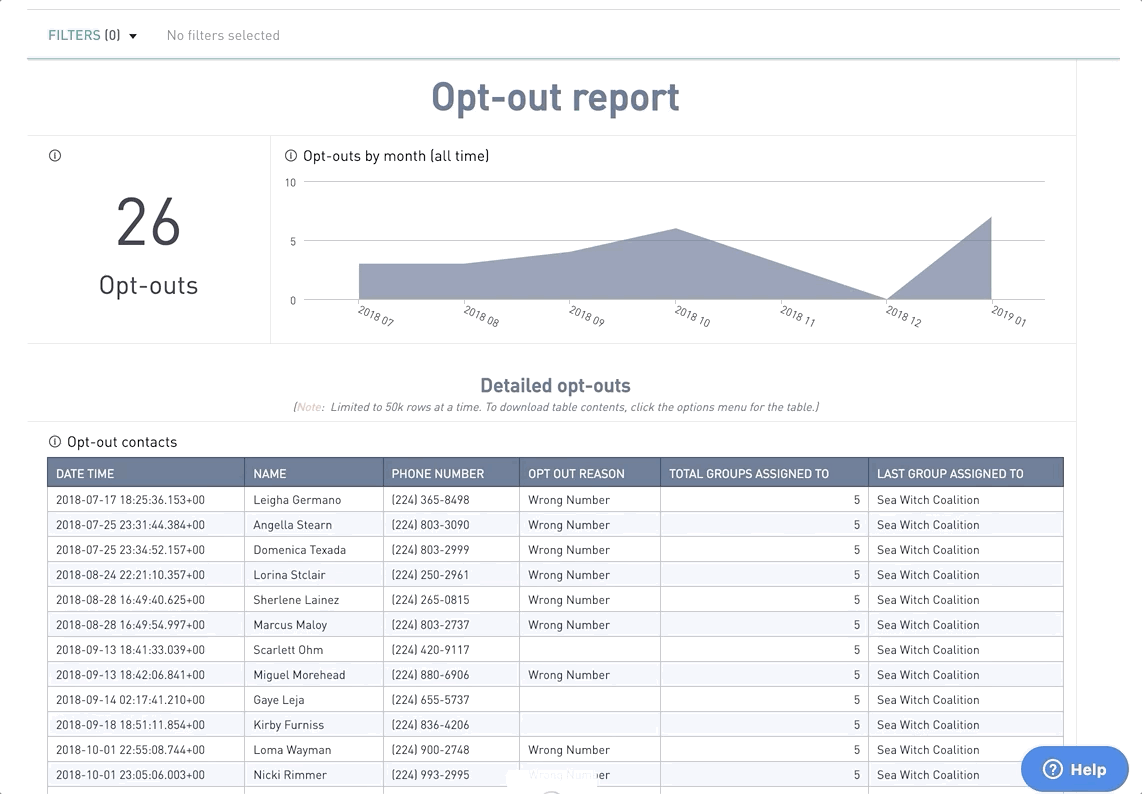 You can also filter the report by a custom date range!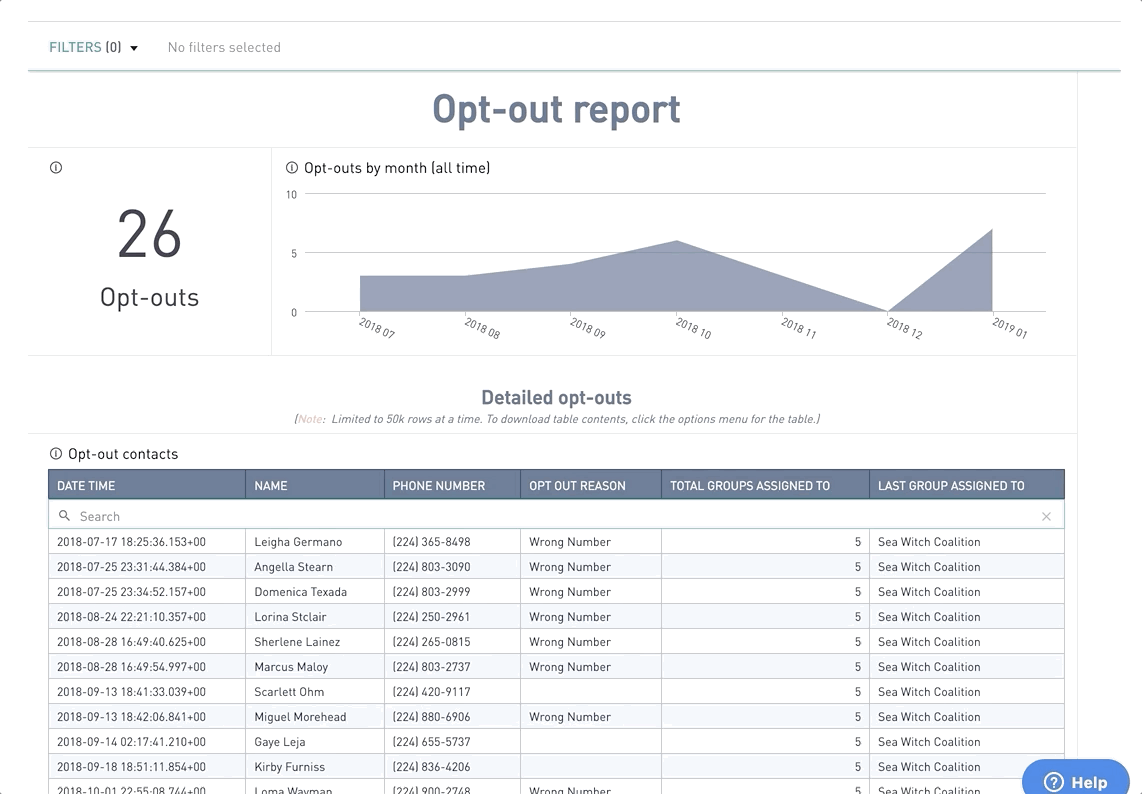 Tag Report
Our Tag Report provides a great high level view of the Tags that you have created for your Organization and how they are utilized in your Hustle instance. You have the ability to drill down to see the number of Tags created as well as how those tags have been applied to your Contacts. This is a key way to make sure that your Agents are adding Tags appropriately and when those Tags were added to each Contact profile. Say goodbye to the days of no visibility regarding your Organization's Tags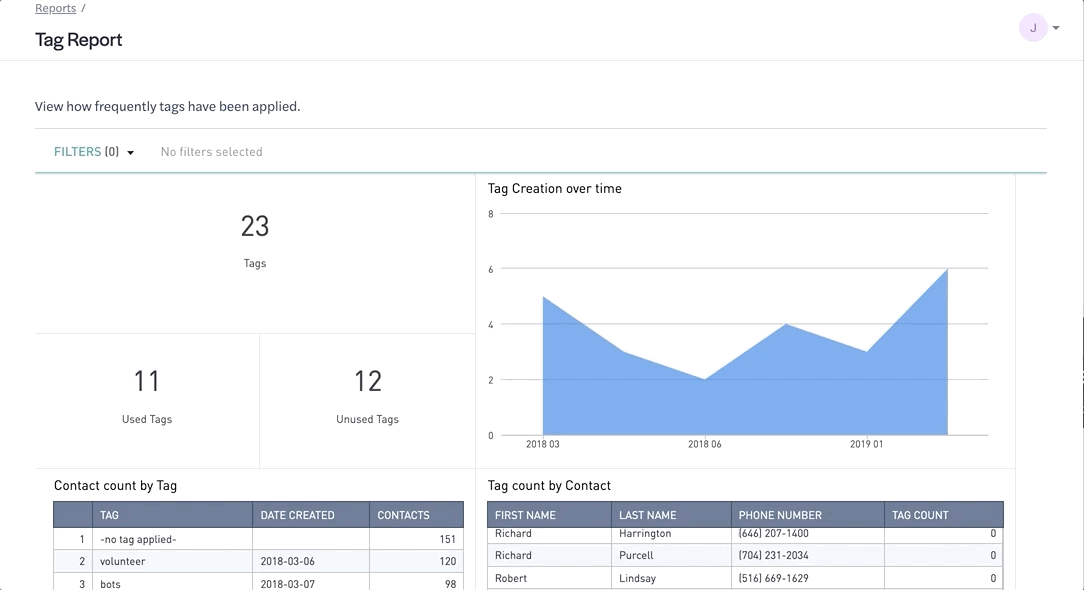 Timing Report
Wondering when the best time to send out messages is depending on the day of the week or time of day? Utilize our new Timing Report which will outline what is the best time for you to send out messages on Hustle to optimize your engagement rate. This report will allow you to make sure that your Hustle text is best received based on the data from past sends!