Not everyone in your contact list is going to want to continue to be texted by your organization and that's okay! It is important to be sure that when a contact states that they no longer want to be texted that you take the proper action to rectify the situation.
In Hustle, there are two different, yet equally important ways, to ensure that your contacts are no longer being texted from your organization: Deactivation and Opt Outs. This article will go over the difference between each feature and the best situation in which to use each feature.
Deactivation
If your end user does not want to receive text from the particular Group they are in but, still want to receive texts from your larger Organization, you have the ability to deactivate the contact rather than opt them out. An example of when you would use deactivation rather than an opt out would be if your contact has moved to a new place and is no longer interested in receiving texts from that location-specific group!
NOTE: If you upload a CSV file with the deactivated Contact's information into the Group they are deactivated in, they will not be automatically reactivated. Contacts can only be reactivated manually in the Admin Panel.
To deactivate a contact, follow these steps:
Navigate to the 'Contacts' tab in the Admin Panel

Find the Contact you wish to Deactivate and click the ellipsis on the right side of the screen

Choose the option for 'Deactivate' and you're all set!

To reactivate your Contacts, just follow the same steps but, click 'Reactivate'
NOTE: Contacts who are deactivated will still be able to receive texts from your larger Organization but, not from the Group they have been deactivated from.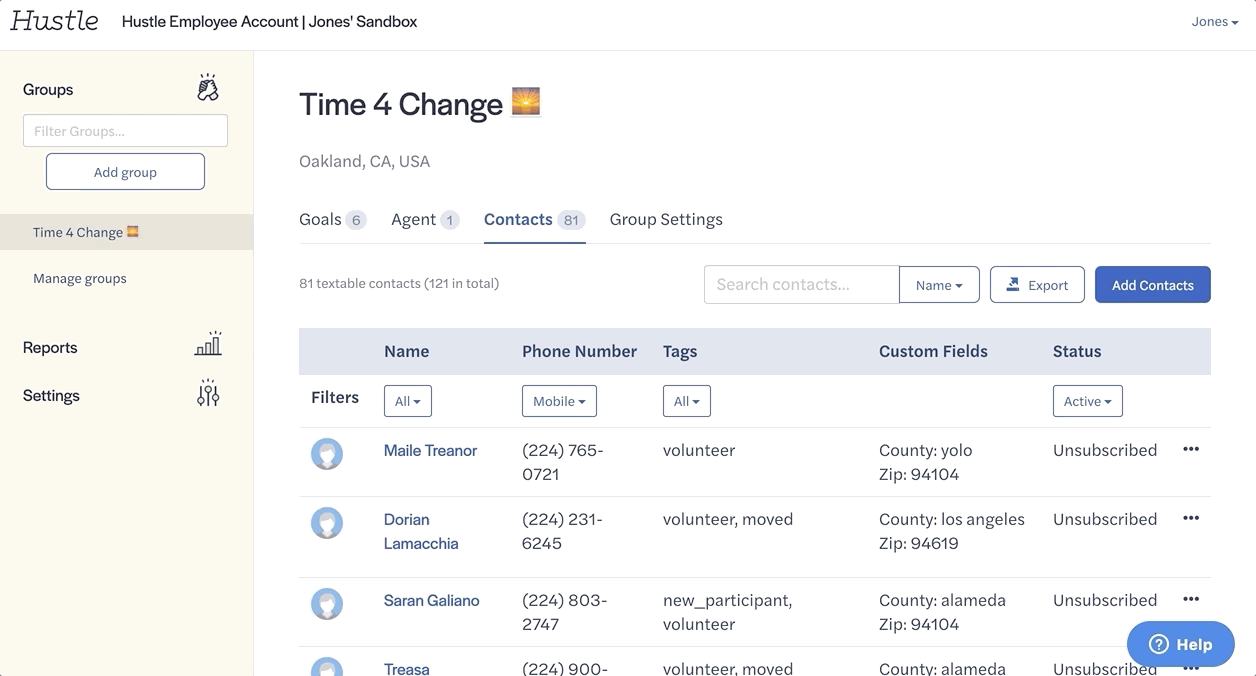 Opting Out
Some end users do not want to be texted ever again and, at Hustle, we take this extremely seriously! If a contact lets you know that they are not interested in being texted any longer, you'll want to opt them out immediately.
NOTE: Contacts have the ability to opt themselves out as well. Here's a link to an article explaining more about Opt Out Triggers.
To Opt Out a Contact, follow these steps:
In the response workflow, click 'Opt Out' in the top right corner of both the web and mobile application

Add a reason why the Contact wants to be opted out. If set up as a visible tag option, this will append the opt-out reason as a tag to the user's profile.






NOTE: It is not necessary to add a reason why a Contact wants to be opted out. If no reason is given, simply click 'Continue'

Hustle will prompt you to make sure you would like to opt the Contact out, if you are sure, press 'Continue'