This article provides instructions on how admins can use MMS in their scripts and goals. With more folks using text messages to communicate with their people, it's more important than ever to set your messages apart from the rest 🙌 
When MMS is enabled, Hustle allows admins to include videos, images, and GIFs in scripts and messages sent out to contacts. Did you know, MMS has a significantly higher engagement rate 📣 better deliverability ⚡️ and faster sending speed than SMS! ✨
Note: Most carriers impose a 600 kB limit on images sent via MMS, so when creating goals make sure images in workflows don't exceed 600 kB. Additionally, we recommend using a 3:2 or 2:3 vertical aspect ratio and testing scripts to verify the delivery of messages is timely and aligns with expectations. For instructions on how to test scripts, see How do I test a script?
MMS messages carry an additional cost and can only be sent out if the organization has MMS enabled by an account admin. Account admins can find instructions on how to enable MMS from the account's settings in How do I enable MMS?


Skip to:
How do I add photos and GIFs to scripts?
To add photos or GIFs to a script:
While creating a goal, scroll down to the script you want to include MMS in and click

Edit

. 

Click

Media.


Click

Add image

to add an image or GIF to the script.

Click Upload Image and choose the image or GIF that you want to include in the script.
When the upload finishes, the name of the file will appear in the top left of the script.

Click

Save to save the script with the MMS file. When the goal launches, the script will now include the uploaded image!

How do I add video to scripts?
For US and PR Hustle organizations with MMS enabled, organization admins can add video clips to their organization for use in Hustle scripts. Clips are not currently available to Canadian organizations.
To add video clips to a script: 
From the organization menu, select 

Media Library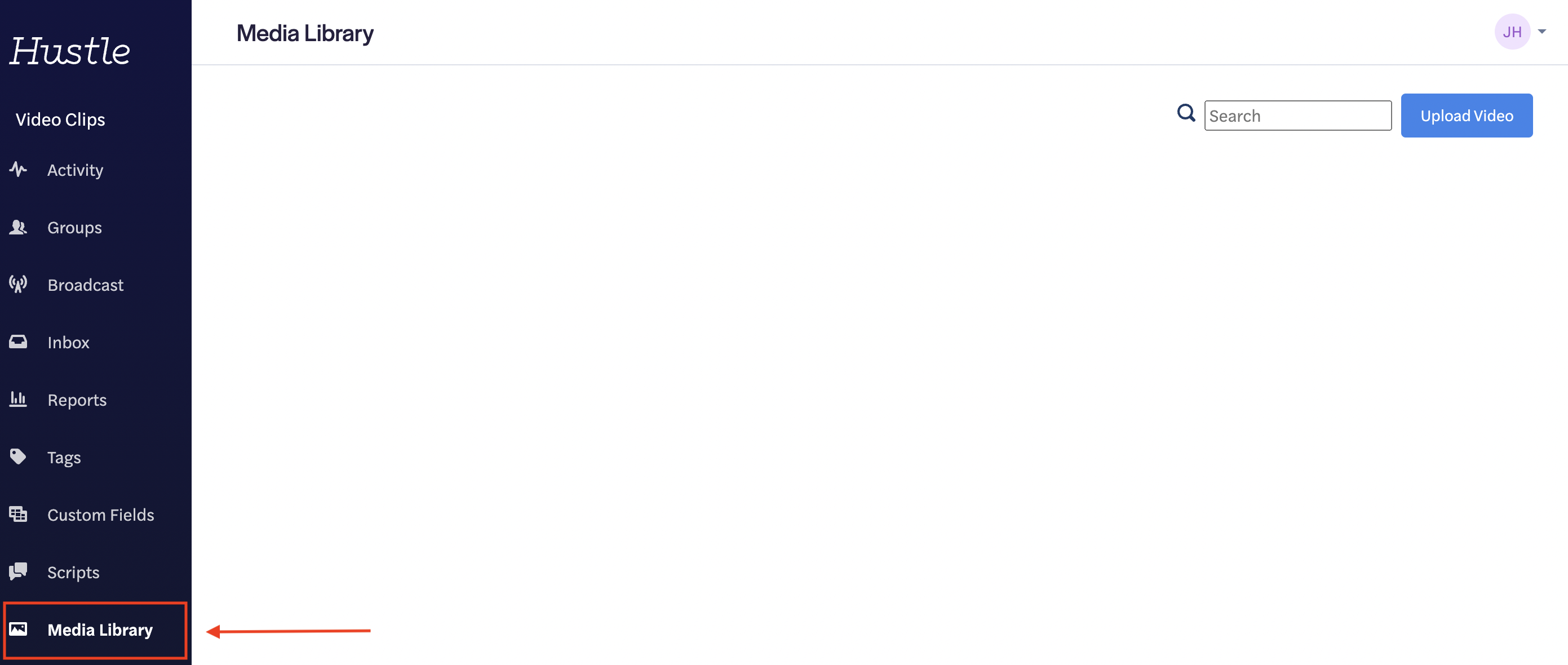 2. There will be an option to Upload Video. Select Upload Video and choose the video file you wish to include in your message.
Note: Currently there is a file size limit of 300mb and a file duration limit of 30 seconds. Video files greater than 300mb and longer than 30 seconds cannot be added to the media library as large video files do not render well for recipients when sent via text message. 
3. Once you select the video file, it can take a few minutes for Hustle to process the file before it can be included in messages. Feel free to navigate away from the page while Hustle processes the video.
Note: Failed uploads will appear in the library as errored with the message "Optimization failed…" 
4. Once the video file uploads successfully, the thumbnail and file name will appear in the media library. Files successfully uploaded to the media library are now available to be added to scripts.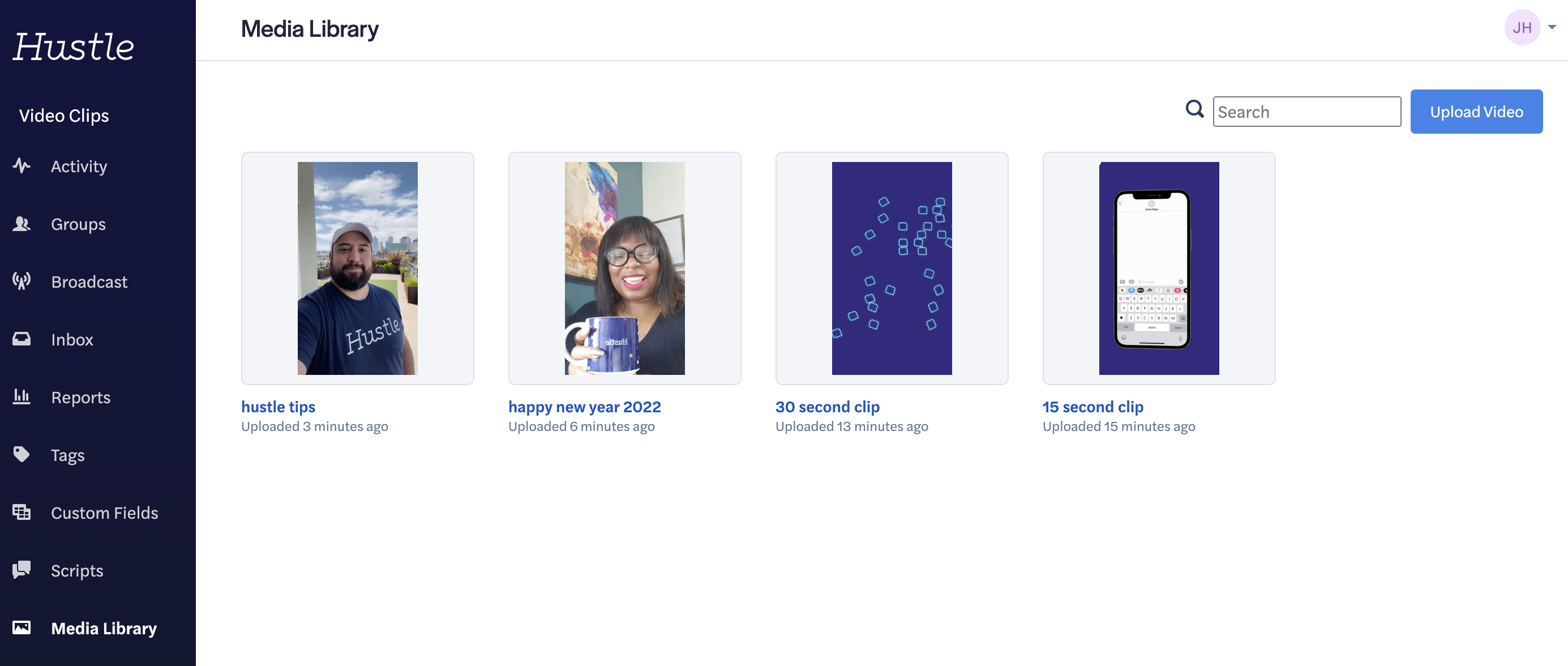 5. Add a goal or broadcast > Edit/Add a script > Media > Add Video > select a video clip from the library
6. Your video clip is now added to your script! Finish drafting the text of your message to accompany your clip and preview it to make sure it's the preferred clip you wish to include with your message. When you're ready, launch the goal or broadcast.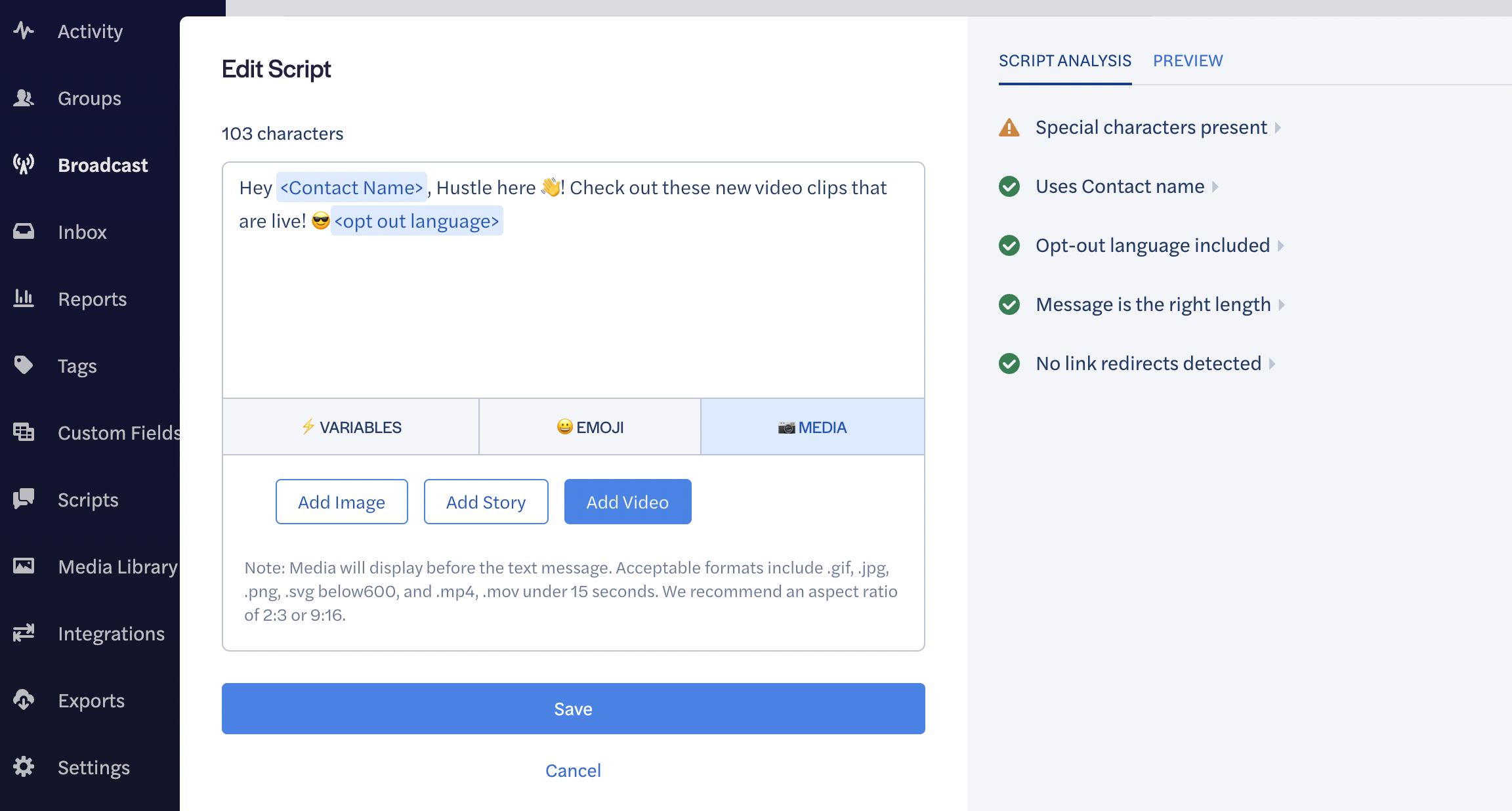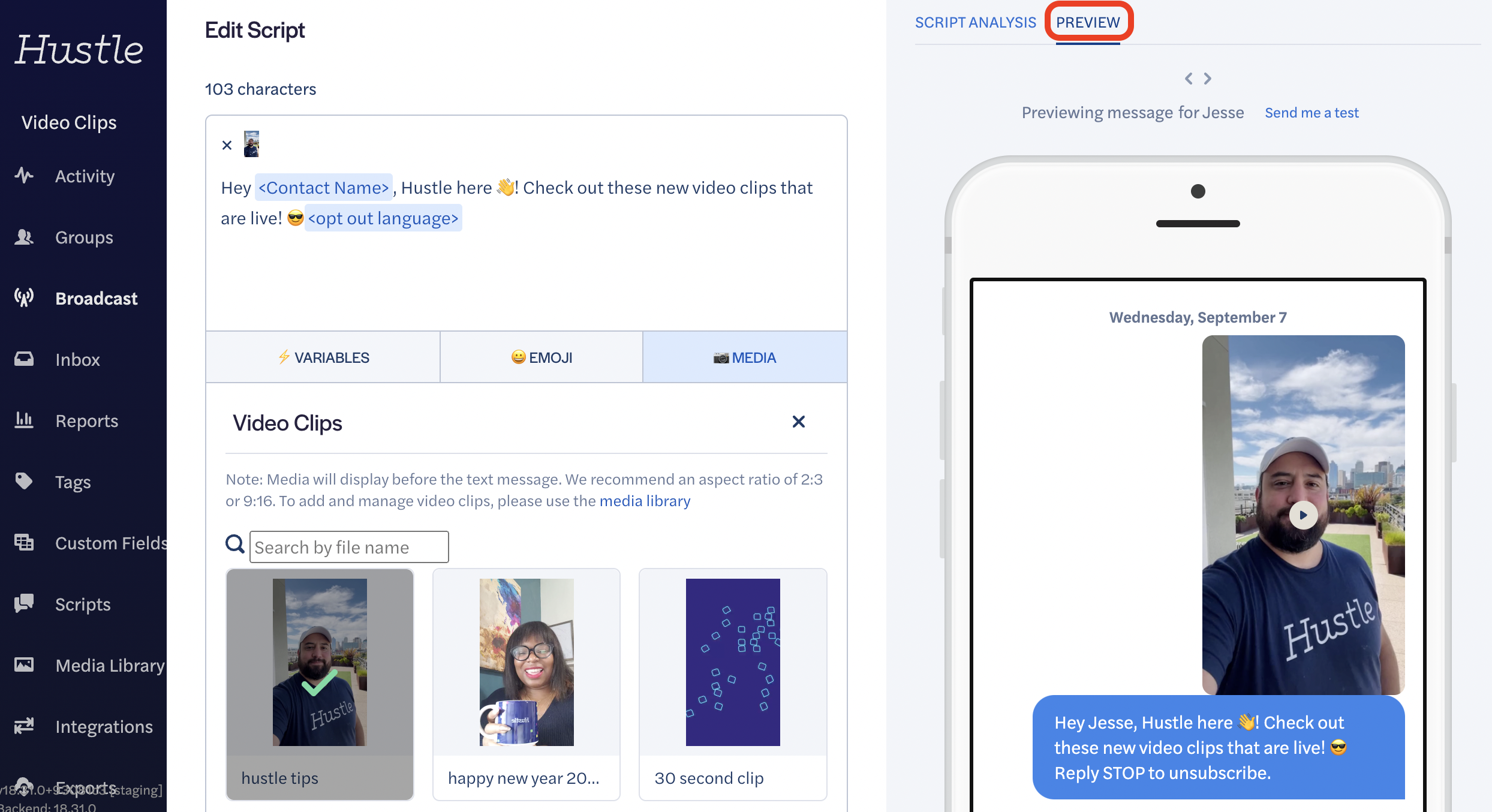 For more information on sending video clips, check out How do I send video clips in Hustle? 
How are MMS messages from contacts seen? 
Contacts sometimes reply to agents with an MMS message. Admins can use the MMS Protection Setting to hide these MMS messages or allow agents to see them

For more information, see How do I manage harmful images from contacts?