What is an Organization-Level Admin?
Organization Overview Page
Adding or Removing Organization Administrators
Changing Basic Information
Custom Fields
Tags
Integrations
Duplicating Organizations
Creating Groups
Advanced Settings
MMS Protection Setting
Response Window
What is an Organization-Level Admin?
Organization-level Admins have the second highest permissions in Hustle. They have the permissions to setup all of the settings and parameters for their organization or company. Serving as a standalone Hustle instance if they are not working with more than one organization under a larger parent structure, Organization-level Admins have the ability to handle all Hustle setup save for creating new Organizations in the tool.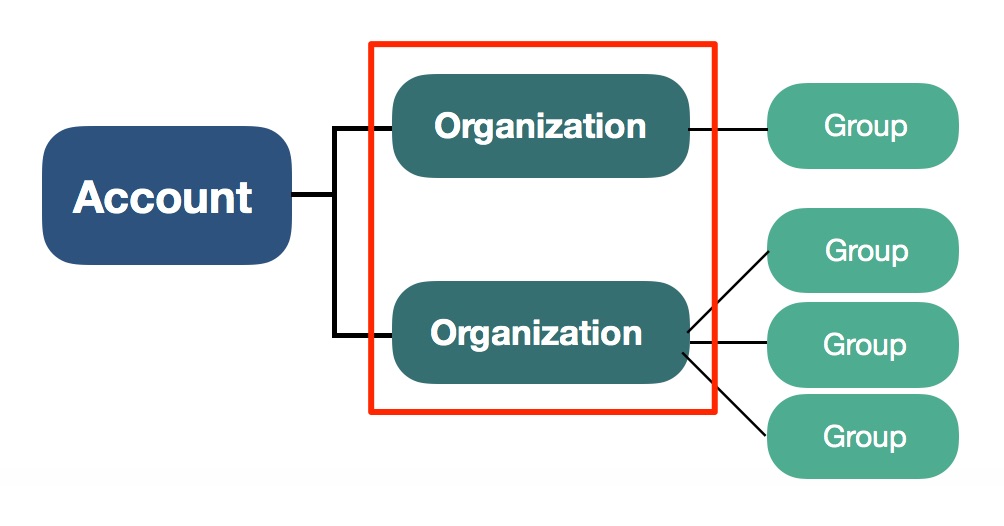 This role is meant to be held by a leader in your organization or someone who is looking over an entire Hustle instance under a larger Account structure. An example of an Organization-level Admin would be leaders of a regional chapter of a national organization.
Settings for organizations can be adjusted by Organization and Account Admins and affect all Groups within the Organizations.
Organization Overview Page
If you have access to more than one Organization in an Account, they will be listed in your Organization Overview page, within the specific Account. You have the ability to see a high level view of the Organizations that you are an Admin of and search for specific Organizations using the search bar.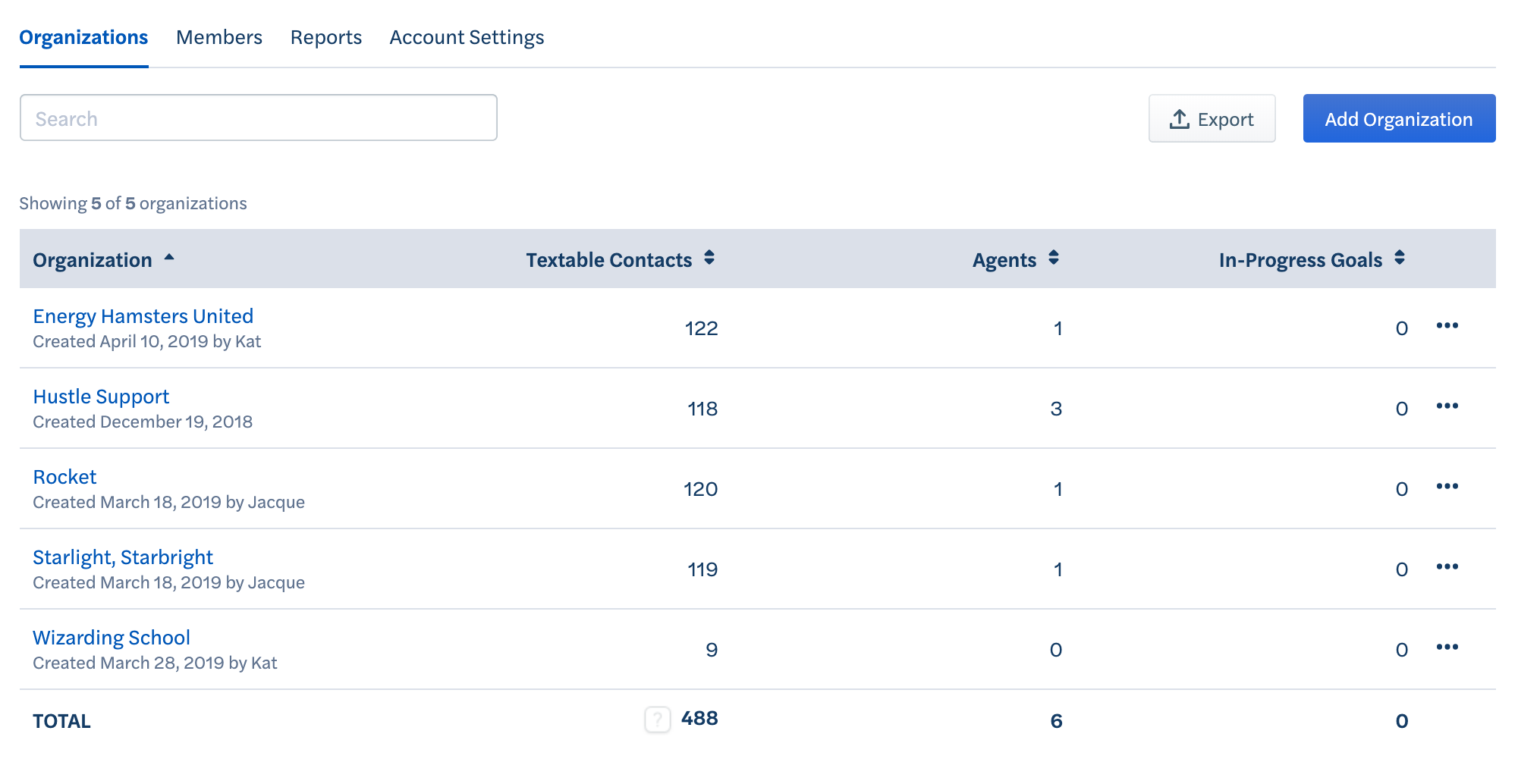 NOTE: If you only have Organization-level access to 1 Organization in Hustle, you will only see one Organization listed here!
Adding or Removing Organization Administrators
As an Organization-Level Admin, you have the ability to add and remove folks with the same level of permissions as you. To read more about how to add and remove Organization-level Admins, check out this help article: How to Manage Organization-Level Admins
Changing Basic Information
All organizational display information can be changed within the organization's Settings.
Both the organization's name and its vocabulary can be changed at any time. To change it, click within the text box, change the text, and click the Save button toward the bottom of the settings page.

The vocabulary discussed here will change the display names of your Hustle users' roles in order to more appropriately address the relationship of your organization to those who are being contacted and those doing the contacting.

NOTE: You will need to refresh your browser window after deploying this change for it to reflect in the interface.
Custom Fields
Organization-level Admins have the ability to setup Custom Fields to include about your Contacts such as Employer, City, State, Graduation Year, Donation Amount or Polling Place. Creating Custom Fields allows you to target your Contacts based on their unique information, you can learn more about Custom Fields here: How do I create a Custom Field?
Tags
Additionally, Organization-level Admins have the ability to create Tags, which are a helpful way for you to collect rich data on your Contacts as you're having conversations with them on the Hustle app (web or mobile). To learn more about Tags, check out this help article: How do I use Tags?
Integrations
Hustle has a number of Integrations with databases which allows you to share the data you collect in Hustle and send back to your database. Hustle has a number of integrations with many different databases or CRMs. Find out more about each of our individual integrations here: Integrations
Duplicating Organizations
Organization-Level Admins have the ability to duplicate Organizations that have the same basic attributes of an Organization that currently exists in your Hustle instance. Duplicating an Organization can copy the following attributes to a new Organization so you don't have to waste time setting up an Organization with the same needs:
General Settings

Administrators

Hours of Operations

Tags

Custom Fields
Find out more about how to duplicate your Organization with this help article: How do I duplicate my Organization?
Creating Groups
Creating Groups is Hustle allows you to organize your Groups in a location based way to tailor your message to your communities. Creating Groups in Hustle is simple! Just follow the steps outlined in this helpful video: Adding a Group to your Organization
Advanced Settings
Settings changed in an organization's Advanced Settings are reflected in every group within an organization.

NOTE: Inbound routing numbers are the exception to the rule. If an inbound routing number is set for both an organization and a group, the group's inbound routing number is honored.
Do not show popups that interrupt agent workflows

prevents web popups from opening up when an agent is using the web interface to Hustle. This has no effect on agents using the mobile app interface.

Allow group administrators to add contacts via CSV upload

gives group admins the ability to add a CSV of contacts to a group they have admin rights to access.

Allow group administrators to export group level data

gives group admins the ability to export goal, contacts, and messages tables for their group.

Allow group administrators to create tags when importing a list via an integration

gives Group Admins the ability to create and assign new tags when importing contacts into Hustle via an integration.

Track phone calls for "Legislative Contact" goal types

adds a metric to the Legislative Contact goal type admin dashboard showing how many contacts clicked on an invitation to call their legislator directly from their Hustle conversation.

Inbound Routing Number sets an org-level phone number to route phone calls to if any contact calls the Hustle number that has texted them. This routing number can be overridden by a group-specific inbound routing number, where the group's set number will be given preference over org.
MMS Protection Setting
Feel free to read more about MMS and its ability to enhance a message here: Using MMS in the Hustle workflow.


The MMS Protection Setting allows a privacy mode to be enabled. When this mode is elected, all photos and videos a contact sends in a conversation will be obscured for that agent until they tap the image to view it.
Response Window
The Response Window is for Anyone messaging type (commonly referred to as First-Come, First-Served, of FCFS). This setting allows Admins to set the release-time a message is held. The default time is 20 minutes until adjusted. The drop-down bar displays what the current settings are at before expanding the menu.
To read more about messaging types, see How do I text using Hustle?
NOTE: The response window cannot be changed for a goal once the goal is already created